Lighthouse - July, 2014.
CSS Sponsors India Club UAE Open Badminton Tournament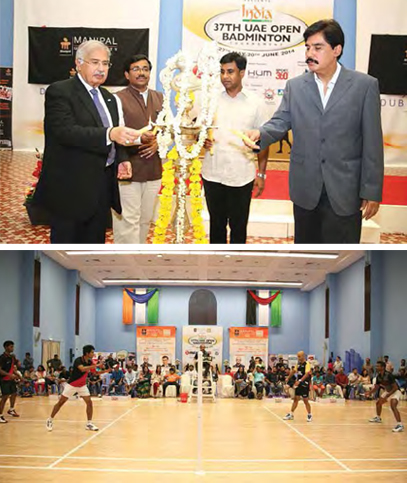 The 37th edition of the India Club UAE Open Badminton tournament got off to a colourful start with a record 595 participants in the men's, ladies', boys', girls' and veterans' categories.
The competition is spread across 26 categories and the event has broken last year's record of 560 entries in the same number of categories.
The tournament, which has been held every year since 1978, was inaugurated by Anurag Bhusan, Consul General of India to Dubai, Dr Ram Buxani, Chairman of the India Club, trustee board member Sunil Singh and Dr Nilanjan Chattopadhayay, Chairman of the School of Business at Manipal University in Dubai. CSS Group is the co-sponsor for this tournament and is pleased to be associated with India Club over the years for its sporting events.
"The India club badminton tournament is one that is rooted in the tradition of the club, and has become a vital part of the community as a whole. CSS Group is proud to be associated with India Club, which has given so much to the Asian community here in the UAE, since its inception. On behalf of the CSS Group we would like to wish all the players in the tournament the best of luck," added Amith Horra, Marketing Manager, CSS Group. All matches are being played in the 21-points format in line with the rules and regulations of the Badminton World Federation (BWF).
Each player is restricted to participating in only three events in a bid to create opportunities for more players to make excel. Matches are also being conducted in a separate pool for special needs students from SNF Development Centre and Dubai Autism Centre. There is also a separate pool for blue collar workers. The finals are scheduled for June 20, with cash prizes, trophies and gift hampers worth a total of more than Dh50,000 up for grabs.