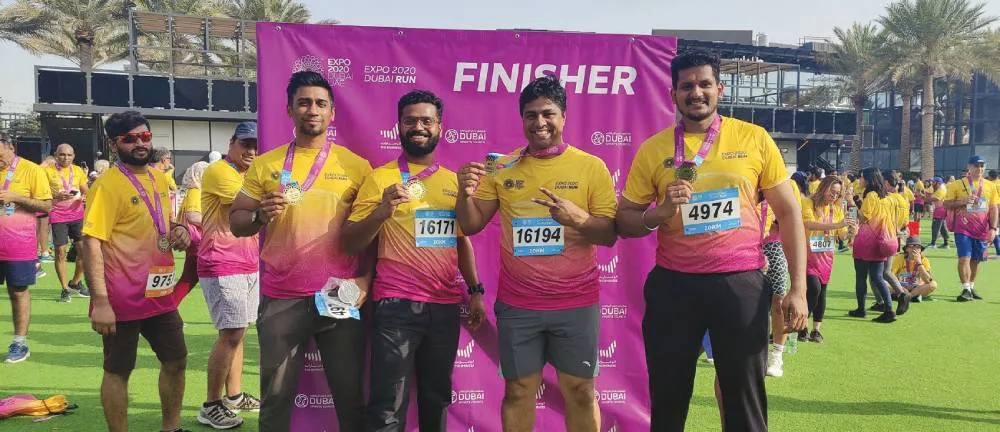 Hailed as the most iconic Run Event of the year, Expo 2020 Dubai Run 3 was the last opportunity to be a part of one of the landmark events of this era. Never to be left behind, CSS marked our support with the enthusiastic participation of our athletic and agile employees – Emson Tomy (Sales Coordinator), Edhu Krishnan (Sales Coordinator), Ranjith Haridas (Sales Manager-NVOCC), and Shabas CP (BDM-NVOCC).
Expo 2020 Dubai Run 3 lowered the curtain on the hugely successful sporting series on March 26th, which started with Runs 1 and 2.
Resilience in the Face of Challenges
The Dubai Expo 2020 was the biggest event ever held in the Arab world. The event displayed massive resilience in the face of unprecedented challenges. With 192 countries coming together to showcase their nation's best, Expo 2020 has proved to be an unparalleled amalgam of cultural, educational, and entertainment experiences, attracting nearly 3 million visitors since its launch on October 1st, 2021 successfully completing on March 31st, 2022
A Run for the People and the Planet
The March 20-26 Run was a part of the Programme for People and Planet, which seeks to explore humanity's challenges and opportunities. 26th March 2022 was the final part of the trilogy for all abilities. In this spirit of optimism, more than 15,000 runners came together for the Expo 2020 Dubai Run 3. This Fun Run series was designed to promote active communities and a healthy lifestyle, attracting runners of all abilities and nationalities.
With the run beginning at 7 am, it was the fastest way to see the whole world in one place, taking in the best of the Expo 2020. The amazing route mapped for the runners went past the international pavilions, the stunning architecture of the Expo's magnificence in the Sustainability, Mobility, and Opportunity Districts, and finally, the incredible Al Wasl Dome.
The event offered three race lengths to its participants -three km, five km, or ten km. The Minister of Sports of the Grand Duchy of Luxembourg, Georges Engel, joined runners in the Expo 2020 Dubai Run 3 in the morning. He also gave away prizes for winners of the 3, 5, or 10 km fun run. The third and final run of the successful community running series was a unique sporting event. The first two community runs also had resounding success, and Expo 2020 Run 3 was the grand finale of this epic Fun Run series.
The able CSS contingent participated in the 10 km course. All the CSS participants completed the 10 km course. "Finishing a marathon isn't just an athletic achievement. It is a state of mind that says Anything is Possible!" said John Hanc, the author of "The Coolest Race on Earth".
We want to commend the CSS runners for their stamina and grit and display sportsmanship spirit.
Bravo Emson, Edhu, Ranjith and Shabas!