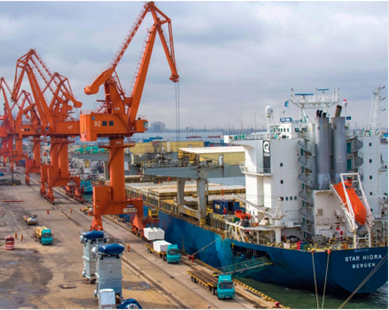 The Indian Prime Minister, Narendra Modi, has stated that India is considering investing Rs 10,000 crore for building a transshipment port at Great Nicobar Island in the Bay of Bengal to provide shippers with an alternative to similar ports in the region.
The 2,312 km long first undersea submarine optical fiber cable from Chennai to Andaman and Nicobar Islands costing Rs.1,224 crore is set to provide high-speed internet to Andaman and Nicobar Islands, thereby providing better and cheaper connectivity.
A transshipment terminal enables big ships to anchor and raise India's share in maritime trade because of its advantageous geographical location, promising proximity to the east-west international shipping route with shorter distances at reasonable prices. This would also help create new job opportunities, emphasized PM Modi.
He also stressed that the government's focus is on promoting ease of business and simplifying maritime logistics to strengthen the network of waterways and ports. India is at the forefront to establish itself as an important player in the global supply and value chain. For this to be achieved, every legal measure is being taken to remove bottlenecks hampering the port infrastructure's development.
The Prime Minister further stated that Andaman and Nicobar will be developed as a hub of port-led development as it is at a competitive distance from many parts of the world. The undersea cable will help boost tourism as it will provide better mobile and internet connectivity on the Islands.
"From Chennai to Port Blair, Port Blair to Little Andaman and Port Blair to Swaraj Dweep, this service has started in large part of Andaman Nicobar from today," said Modi, also adding that it will boost 4G mobile services and digital services like tele-education, telehealth, e-governance services and tourism on the Islands. Besides Port Blair, it will connect other islands, namely Swaraj Dweep (Havelock), Long Island, Rangat, Little Andaman, Kamorta, Car Nicobar, and Greater Nicobar. As per official data, an internet speed of 400 gigabytes (GB) per second will be provided at Port Blair and other islands, at 200 GB per second. BSNL supported the work of laying the undersea cable in a record time of lesser than 24 months.
Physical connectivity through road, air, and water is also being worked on. PM Modi highlighted the National Highway No. 4 to improve the road connectivity between North and Middle Andaman. Port Blair is undergoing a major transformation to handle a capacity of 1,200 passengers along with big-time reformations taking place in airports in Diglipur, Car Nicobar, and Campbell Bay.
Modi also mentioned that few ships are being built at the Kochi Shipyard and will be delivered soon to improve the water connectivity between the islands and the mainland, thus hinting that seaplane services will start once the passenger terminal and floating jetty gets ready at Swaray Dweep, Shaheed Dweep, and Long Island. India is interestingly moving forward with a resolve of self-sufficiency and is establishing itself as an essential player in the global supply and value chain along with a strengthened network of waterways and ports.