Lighthouse - May, 2019.
DEEPLY SADDENED WITH THE DEMISE
CSS GROUP EXTENDS THEIR HEARTFELT CONDOLENCES TO THE BEREAVED FAMILY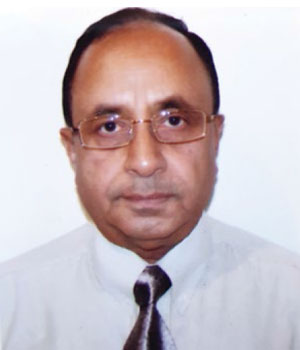 CSS Group was deeply saddened with the demise of Mr. Lalit Sharma, CEO of Lalit Freight Services. Mr Sharma has always been a great supporter of CSS Group and a long-time business associate. Chairman of CSS Group T S Kaladharan extended his condolences in Mr. Sharma's untimely departure. "Mr. Sharma's inspiring leadership and pursuit of excellence have created an enviable reputation for his company in the freight forwarding business. With his demise, we lost a great friend who stood with us in our ups and downs" mentioned Kala in his message.
A brief profile on Mr. Lalit Sharma
With very humble beginnings with his law degree in his hand, Mr. Sharma's arrival to Dubai was a very unexpected one. Landed in Dubai Mr Sharma started his career as an accountant in a construction company. But soon he has to look for another job due to many unforeseen misfortunes. His next assignment was with a Freight forwarding company where he not only looked after the accounts, but was extremely engaged with the core trade as well. His impeccable skills in PR and communications supported his growth to a great extent.
Founded in 1997, the eponymous company, Lalit Freight Services, had a rich client base, mainly consisting of Mr. Lalit's friends who were impressed with his work ethics, and the ability to negotiate and obtain the best rates for them. As in any business, there were ups and downs, but Lalit Freight Services continued to thrive and cater to the client's needs with utmost dedication.
Mr. Lalit Sharma worked round the clock to run a business that is his legacy.
Lalit Freight Services has always been a family business committed to providing excellent services to its clients. After Mr. Lalit Sharma's sad demise on March 28th 2019, his wife (Shashikala Sharma), son (Kunal Sharma), and daughter (Palvi Sharma), hope to continue the legacy he left behind with the same dedication that he had.