Lighthouse - September, 2011.
Devas Chundan Lifts The 59Th Nehru Trophy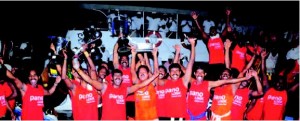 Devas Snake boat powered by Jesus Boat Club lifted the prestigious Nehru Trophy in a pulsating final match with Karichal at Punnamada Alleppey on the 13th of August, Saturday. Devas whizzed past Karichal Chundan of Freedom Boat Club and Muttel Kainakari of United Boat Club in a thrilling race witnessed by hundreds, including a large number of foreign tourists.

Over 4,000 oarsmen put on display their rowing skills in the event in which competitions were also held for different types of smaller craft. Union Health Minister Guhlam Nabi Azad had inaugurated the boat race, which was instituted in early 1950s, to commemorate Jawaharlal Nehru's boat ride in the backwaters of Kuttanad area during a visit to the state.

The race of long and sleek 'snake boats', unique to Kerala and known as 'chundam vallams in local parlance, is the highlight of the event in which 16 teams competed.

Enchanted by the beauty of the palm-fringed villages on the banks of the backwaters and the sporting spirit of the people, Nehru suggested that the boat race to be held on an annual basis.

He also sent the trophy to be given to the winning team. The boat race is held on second Saturday of August every year.

In the women's category of Thekkan Odi, Devas retained the title for the third time. There were cheer leaders from all parts of the world in a special boat organized by the CSS Group Chairman, T. S. Kaladharan. " We must win" that was what Kala said before the competition and we won.

The people of Kuttanad call it the water Olympics of Kerala. As the saying goes, "the people of Kuttanad village can live without food and water, but they cannot live without snake boat races", which is a way of life here.