Lighthouse - March, 2013.
DP World Marks Handling Of 100M Containers In 10 Years

CSS Vice President Business Development, Ken Dinnadge was invited to celebrate a milestone with DP World Senior Management whereby they achieved 100 Million TEUs handled.
Mohammed Al Muallem, Senior Vice President & Managing Director, DP World UAE Region, Jamal Majid Bin Thaniah, Vice Chairman, DP World, Sultan Ahmed Bin Sulayem, Chairman, DP World and Ken Dinnadge, VP Business Development CSS.
DP World celebrated a milestone achievement in its history when its Dubai ports handled the 100 millionth container to pass through UAE Region terminals in ten years on February 4th, 2013.
DP World Chairman Sultan Ahmed Bin Sulayem said, "The feat was made possible by the high level of support the company has received from Dubai's leadership, loyal customers, stakeholders and committed employees."
The 100 million TEU record was achieved between January 2003 and January 2013 and covers all container boxes handled in both Mina Rashid and Jebel Ali Port. DP World, UAE Region's annual container throughput increased more than 150 per cent over the decade, from around five million TEU in 2003 to 13.3 million TEU in 2012.
In all, the two container ports have handled 135 million TEU since the opening of Jebel Ali Port in 1979, around 75 per cent of it since 2003.
In a recognition of the crucial roles they have played in DP World's success story, members of the DP World Alumni Network were invited as special guests to celebrations at Jebel Ali Port where the Chairman unveiled a container box painted in company colours, in the presence of senior officials, including Vice Chairman Jamal Majid Bin Thaniah, Group Chief Executive Officer Mohammed Sharaf, and Senior Vice President and Managing Director of DP World, UAE Region Mohammed Al Muallem – all of whom have played pivotal leadership roles in the company's emergence as the third largest global marine terminal operator.
Sultan Ahmed bin Sulayem, Chairman, DP World, said: "DP World owes its success to the vision and support of His Highness Shaikh Mohammed Bin Rashid Al Maktoum, the UAE Vice President and Prime Minister and Ruler of Dubai. Our flagship facility Jebel Ali is counted among the crown jewels of Dubai's economy. We remain committed to supporting Dubai's unparalleled position as the region's commercial hub.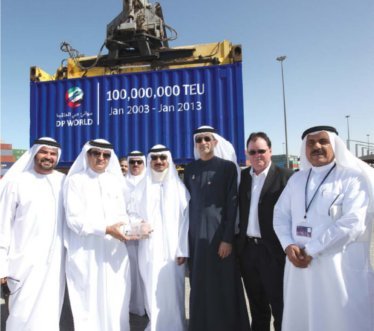 CSS Group was also represented during this landmark moment by Ken Dinnadge VP Business Development, as part of the DP World Alumni invited to this exclusive event. During his tenure at DP World Ken was part of the first commercial team that set DP World on its way to achieving its first million TEUs. Ken Dinnadge said, "The growth of DP World serves as a lesson for ports worldwide, as its success is owed to the vision of the country's leaders and the Chairman of DP World. On behalf of CSS Group, I would like to congratulate DP World on achieving this tremendous milestone and wish them further success and growth in the future."
The expansion work currently underway at Jebel Ali includes adding 1 million TEU in new capacity to Container Terminal 2 (T2) during the first half of this year and the development of a 4 million TEU capacity mega Container Terminal 3 (T3) by 2014. When the expansion work is complete, Jebel Ali Port will be able to handle ten of the next generation 18,000 TEU mega vessels at the same time – the only port in the region able to do so.
For well over a year now, DP World, UAE Region has been handling volumes of more than 1 million TEU every month. In 2012 DP World, UAE region handled 13.3 million TEU.