Lighthouse - March, 2016.
Extra Care For Your Cargo
CSS Homeward Bound uses Vacuum Packing for special care of cargo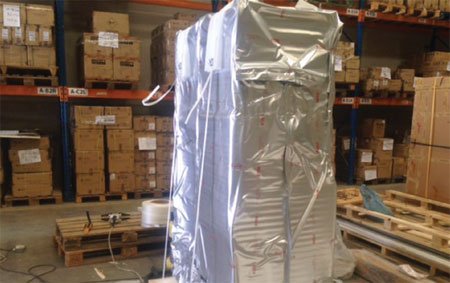 Vacuum packing has been extensively used by CSS Homeward Bound as per customer's request. It's a specialized service only few companies are providing in the industry. Homeward Bound specializes in all kinds of vacuum packing from helicopters / yachts to small machines.
Vacuum packing is a method of packaging that removes air from the package prior to sealing. This method involves (manually or automatically) placing items in a plastic film package, removing air from inside, and sealing the package. Shrink film is sometimes used to have a tight fit to the contents. The intent of vacuum packing is usually to remove oxygen from the container with flexible package forms. It will reduce the volume of the contents and package.
Any type of cargo can be vacuum packed and it depends on the customer who wants to safeguard their cargo from moisture. Vacuum packing stops rusting and aging of the cargo also the cargo stays new for a longer time. "Much cost variance is not there for vacuum packing from normal packing and our customers who are willing to pay a small extra money can make doubly sure that their cargo is more secured", commented Syed Zeeshan, General Manager, CSS Homeward Bound. "We have given special and extensive training for our staff for specialised cargo packing requirements as most of our customers demand such new trends, "added Zeeshan.

Vacuum packing reduces atmospheric oxygen, limiting the growth of aerobic bacteria or fungi, and preventing the evaporation of volatile components. Special equipments are being used for vacuum packing at CSS Homeward Bound warehouse. 
Vacuum Packing Procedures
Cargo will be wrapped in Aluminium barrier foil and all joints will be sealed with heat seale , air to be completely sucked out from the Package and VCI emitters and desiccants placed inside. (In case of sharp edges in the cargo cushioning material will be placed)
Material  Specifications:
Metal Barrier foil :
Flexible, heat sealable,  water vapour & corrosion  resistant  barrier foil
Tri-laminate of Polyester, Aluminium   & Polyethylene.
Total thickness – 115 Micron (Tolerance +/- 5 %)