Lighthouse - January, 2016.
FPS AGM at Jakarta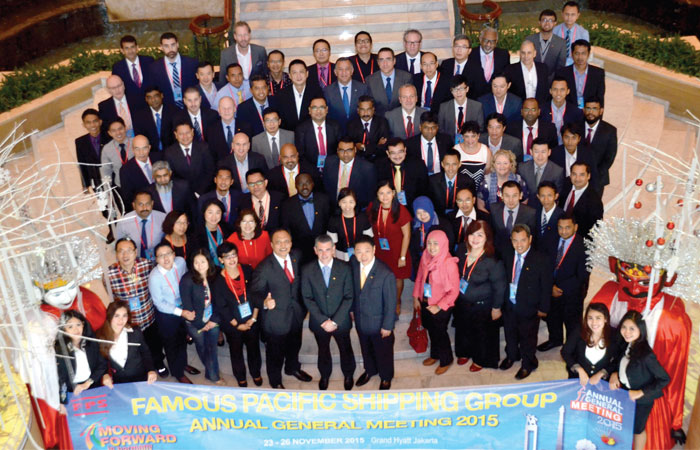 CSS Group representatives attended the recently concluded FPS AGM and conference at Jakarta.
The CSS Group was represented by Siby Kurian, Senior GM, Sales & Marketing and Thomas Mathew, Manager Pricing and Key Information Department, CSS Dubai, Jairam KR, Director, CSS India, Narayan R T, General Manager, CSS Bahrain and Dean Landers, General Manager, CSS Kuwait.
FPS Group – one of the largest and longest-established forwarding groups in the world – is to change its constitution to allow multiple memberships in each territory. The decision was reached at this year's AGM and Conference, which took place in Jakarta, Indonesia, and was attended by representatives of the network's global membership.
Advisory Board Chairman Sam Aparo, co-owner of one of the network's founding members, told delegates that the original FPS Group policy of one member per country was no longer the best model. Although it had been very successful since its launch in 1998, "The strength we once had is now our weakness," he said.
"If we have multiple members in each market, it means we all have multiple choices. It's not just more members, it's also about quality and additional opportunities. We should not be afraid of competition," he continued.
"Networking at the FPS AGM and conference always provides an opportunity to meet new members from some of the geographical regions where we do think about exploring in the near future and hence CSS finds it very fruitful to be at this gathering" commented Siby Kurian.
FPS will also embark on an aggressive expansion programme in 2016, to fill gaps in its existing geographic coverage. Speaking after the conference, Sam Aparo added: "2016 is the year of expansion for our network. We have a tremendous and unrivalled asset in the quality, size, reputation and business base of FPS Group. New members will immediately benefit from this, as well as opening up new opportunities for the whole group."
Aparo added that there had never been a better time for agents to join a quality network, enabling them to counteract falling margins with increased reciprocal sales and more professional marketing. "There is strength in numbers; both more effective marketing, and the opportunity to share its costs over a larger number of participants."
"In a very uncertain global economic scenario we face, it's extremely important to have regular overhauling of your contacts to keep the business lively and aggressive. CSS India has always utilised the opportunity of interacting at the FPS, from day one onwards and we have found it very useful" mentioned Jairam K R.