Lighthouse - May, 2016.
From Derince to Dubai
Transformer movement and installation by CSS Projects team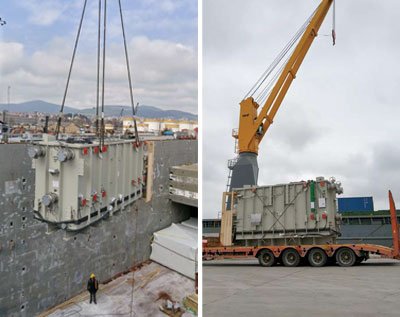 The Projects team at CSS Group successfully completed a major movement recently.
Six Transformer units each of 7 x 2.8 x 3 M and weighing 60 tons each were moved from Derince Port, Turkey to Dubai. The movement was from Door to Door including the installation procedures. As is the practice, extensive study and survey was conducted as part of this movement regarding the Origin, Destination and the Travel route. Each point of the entire project was carefully assessed to ensure a fool proof and smooth journey of the cargo. At the destination, transformers were installed using the Jacking and Skidding method under the supervision of technical experts.
Prior permissions were taken and escorts were arranged for the entire route. "CSS Projects team has got a proven expertise in transformer movement, as we have done some major movements in the past as well. When it comes to installation, highly experienced technical team comes into the picture. Our past experience and successful results attracts clients to us when such demands pitch in", commented Raj George, Senior Vice President, Projects Oil & Energy, CSS Group, after the successful project completion.