Lighthouse - September, 2016.
Good Bye Stress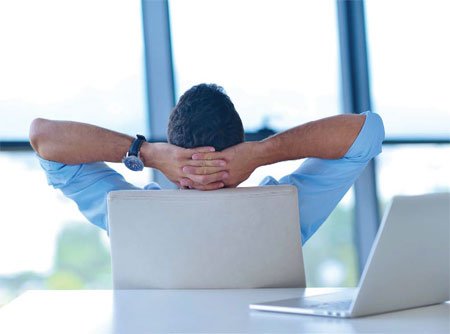 We all know that whether our office is lively, dull or easy-going we have days when things just do not seem to go right. At such times our stress levels rise and as a consequence our work suffers. Let's face it we would all appreciate a less stressful day at the office. On such occasions an extra bit of 'umph' to jolly us along, would be very welcome.  It's therefore of little wonder that lots of ongoing research takes place to see how this 'umph' may be provided. So here are three suggestions, from many, that are designed to stimulate ideas which may enhance a work place environment.
PLANTS IN THE OFFICE
The first one is a simple solution arising from research carried out by an Australian University that focused on the benefits of having plants in our offices. It concluded that plants, being present in the work place, not only helped purify the air but also added focal points and created identifiable spaces. Plants are known to be a source of tranquillity where a casual, almost subconscious, look can trigger inner peace. The Australian study determined that plants in the office reduced the adverse effect of a whole range of feelings including anxiety, anger, depression, stress and fatigue. Just one plant, per work space, can provide a good lift to staff spirits whilst at the same time promoting wellbeing.  The choice of plant is important depending on how much time one wishes to devote to looking after them. Ideally plants which only occasionally flower are better avoided. Seeing them come into bloom is upwardly stimulating but when the flowers start to wilt the emotional uplift is dampened. However if an office has a team member with 'green fingers' then maintaining a regular recycling of floral greenery displays will be a welcome assignment.
HOLDING A COLOUR DAY
This second suggestion is more team focused and allows for fun without occasioning any direct impact on working practices. Having a day when everyone in your department agrees to wear something of the same colour is bound to bring some interesting surprises. If there is an overall feeling that a more determined approach is needed then everyone should be asked to wear something red. It could be red socks, shirt, tie, dress, shoes or even an item of jewellery – anything, as long as it is red.  The variations will no doubt raise at least a chuckle and woe betides anyone who forgets. The choice of colours for your work place colour day should be picked to suit a team's emotional needs. This brief look at the emotional meanings of colours will give you the idea:-
RED – Strength, energy, determination, decision making.
YELLOW – Loyalty, light-hearted, attention impact.
ORANGE – Joy, enthusiasm, creativity.
GREEN – Safety, growth, finance.
PURPLE – Luxury, power, ambition.
BLUE – Wisdom, trust, confidence.
BLACK – Power, elegance, authority.
WHITE – Perfection, goodness.
Choosing a colour will let everyone else know, who is into the secret, what your objectives are for your colour day. It's bound to favourably impact on success.
PETS AT WORK
The third suggestion is bringing a pet to work. A British pet food company's research revealed that some 40% of UK workers said that having a pet in their office would make them feel less stressed. It may be impossible for an office to adopt a pet but a staff member, bringing in their pet for the day, can have a wonderful interactive effect on others. It's said that the next time you are stressed, perhaps because of a monthly meeting deadline, then reaching down to stroke a cat or pat a dog sets aside any unhelpful stress.
Still, whatever ideas this article may have stimulated for you, eliminating stress completely is not realistically possible. However we owe it to ourselves and our colleagues to see how we may say 'goodbye' to stress. By trying meaningful ways of injecting some 'umph', into our day to day routine, we may help each other to feel more contented at work; not least because it's never too late to start.