Lighthouse - June, 2011.
GPLN Annual Meeting Global Conference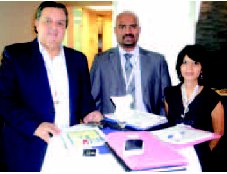 The Global Project Logistics Network (GPLN) recently held at the 2011 Global Conference at the Hilton Munich Park Hotel in Munich, Germany, from May 3rd – 5th. 136 project cargo experts and independent project logistics specialist companies from all around the world, all of whom have an expert focus on project logistics attended the global conference.This global meeting allowed face-to-face contact with various GPLN partners. Members were able to efficiently build professional relationships in the most lasting and cost effective manner.
The GPLN Munich meeting was the largest ever, up 68% from the 2010 meeting in Rio de Janeiro (93 attendees), which was GPLN's previous attendance record.
"This meeting in Munich gives us a high bar to aim for in 2012," said Gary Dale Cearley, Executive Director of GPLN, "But actually, the reason for the growth is not a secret. It is the quality of the members we have. We plan to keep to our membership standards high so I expect to attract even more high quality project logistics professionals to next year's meeting."
The CSS delegation attending the global conference were, Sreenath V-General Manager, Projects, Oil & Energy, Suku Sudhakaran, AGM, CSS Abu Dhabi, and Chandrakala (CK) Management Trainee CSS. "The global conference was an excellent platform to network with all of our associates across the Projects, Oil & Energy fraternity worldwide. We were able to meet and discuss various trends within the industry and share ideas with each other that will promote mutual growth respectively. A special thanks to the GPLN team for organizing such a wonderful global conference," added Sreenath V.