Lighthouse - May, 2018.
Growing Supply Chain Management
The exponential growth of supply chain management is a promising factor towards the growth of the economy of UAE. Lighthouse spoke with Hareesh Haridas, Manager /Logistics for SCM about the Supply chain activities within the CSS Group, his service and much more.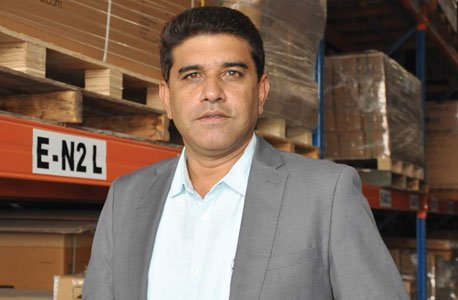 If you were to describe yourself in under 2 minutes, how would you?
I am a team player and like to be a part of good working environment. I was moulded by my experiences and work with a mentality of sharing and delegating things for a better and positive outcome.
How did you first get involved in this industry, specifically supply chain management? Did you go through a process like working with a shipper, liner or logistics?
My experience with the service industry started much before I joined CSS. I was with another company, five to six years working within the passenger services where you deal with people and their emotions directly. It gave me ample exposure understanding various situations. My experience in the logistics industry began with CSS.
How long have you been working with the CSS Group?
Its been a long journey, close to 14 years now. We even have staff working here ever since the company commenced operations. I had joined as a coordinator when the Supply Chain department. started within the company. In a short span, I climbed up the ladder with more responsibilities.
Tell us exactly what Supply Chain Management entails.
Supply Chain Management is the oversight of materials, information, and finances as they move in a process from supplier to manufacturer to wholesaler to retailer to consumer. Supply chain management involves coordinating and integrating these flows, both within and among, companies. In simple terms, catering the end to end needs of a customer with uncompromised quality.
What is included in your portfolio?
CSS has expanded their facilities with storage spaces across the Emirates. We have warehousing facilities in Sharjah, Al Quoz, Jebel Ali and Abu Dhabi with CSS personnel and equipment. We have more than 20,000 Sq.mt. being managed in Jebel Ali itself. My responsibility is to manage it professionally and constructively, to make these entities run as profit centres and provide exceptional services to our clients.
What is the innovation side of Supply Chain Management?
An efficient supply chain is vital for businesses to deliver their products to consumers who want or need them. with Dubai being a major marketplace in the MENA region, supply chain management must think more innovatively and proactively to balance product flow and costs throughout a product's life cycle.
How does supply chain management, not only related to the CSS Group, play a role when it comes to oil, energy, projects?
CSS is amongst the top five consolidators in Jebel Ali. SCM is undoubtedly the backbone for A to Z Logistics activities, especially in freight forwarding. The SCM is a assembly of different activities happening in the entire supply chain starting from procurement of goods from suppliers to selling the goods to the end customer. It helps in managing and controlling materials, information and finances as they move from supplier to customer.
What would you want to tell someone to put them at ease if someone is exploring SCM?
You need to have the mindset to work and carry out a variety of tasks. How much time you spend in your job is immaterial, it is the dedication and concentration which really matters. Supply Chain Management is a highly promising area. Work hard and you will be successful.
With the current state of affairs in supply chain management, what are the negative and positive observations you can make?
Current market situations are rather fragile, even though the situations can change any time.
What do the words "local knowledge, global reach" mean to you?
CSS Group is very strong in the GCC and South Asia. We enjoy one of the strongest network of partners and associates across the globe. Over two decades of experience in the Middle East make us equally strong with the local knowledge.
What motivates you?
Every day is different! It becomes more and more demanding, just be ready to take up any challenge.