Lighthouse - March, 2014.
Insight into the Technical Department @ Jebel Ali Port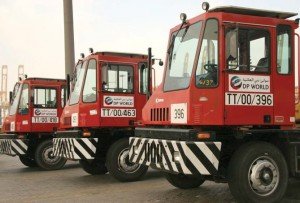 78 Quay Cranes, over 250 RTG/RMG, 100s of trucks, forklifts, and other port equipment. Enormous assets to manage. How does the department do it? And more coming with T3…
There are separate maintenance workshops at Terminal 1 & 2 for cranes, mobile equipment, reefer, cold store, high voltage and crane systems. We have a large team of skilled and trained professionals who undergo regular training. We are proud to provide 99% of the maintenance and service requirements in-house; which include regular preventive, predictive and corrective maintenance. In addition, we have implemented automated workflows for our assets.
Total stock category items over 27,500
This is one of the largest technical teams in Dubai. What is the scope of your services?
Inventory Value AED 50 million
Our workshops also provide support to Imdaad, Trakhees, JAFZA and other business units. Spare parts are stored in two major warehouses within our terminals.  Even though we have one of the largest we maintain minimal stock levels for which we have price agreements and consignment stock agreements with major suppliers.
Bringing in spare parts is one of the more complex supply chains. How does the department plan and manage this activity to ensure round-the-clock operations?
Average consumption of spare parts per month AED 6 million
Inventory is classified into two categories: stock and non-stock. Stock consists of spares that are required for regular maintenance. The inventory is maintained based on the below factors:
• Frequency of PM services
• Lead time
• Buffer stock
• End user's
recommendation
• Equipment population
Non-stock consists of spares that will be made available based on user demand.
Inventory Ratio at our stores – 4.2
Our Inventory is classified based on different commodity groups against each type of spare parts. Currently, we have a total of 1100 active commodity groups in use.
How is the logistics of procuring managed?
Overseas deliveries are either by sea or air freight. The mode is chosen depending on the urgency of the material requirement.
However, for bulk orders sea freight is the preferred mode as they are ordered for planned maintenance and the consumption pattern is predetermined.
How does the team cater to un-planned/emergency/breakdowns?
Emergency maintenance is an inevitable activity in busy terminals. There is a dedicated crew working round-the-clock to attend to breakdown calls.
Online breakdown reporting, SMS notifications and joining forces with the Operations team reduces downtime.
By using the latest technology in trouble shooting and repairs, using modern communication systems, breakdown reporting, online and offline crane maintenance – thermography, ultra sound scanning, oil sampling and so on are tools we have implemented to reduce breakdowns.
THE SWITCH FROM FOSSIL FUEL TO ELECTRICITY WILL REDUCE MONTHLY DIESEL CONSUMPTION BY 109,000 LITRES IN AVERAGE, SAVING ON ENERGY COSTS AND REDUCING EMISSIONS BY ALMOST 2,000 TONS OF CARBON DIOXIDE (CO2) PER YEAR, BASED ON FIELD TRIALS.
How does the department train and equip the team?
DP World operates a Technical Training Centre which is responsible to improve knowledge, increase skill sets and ensure that the team is informed and adept with new technologies and advancements in the industry. The centre offers training in various engineering fields like mechanical, electrical, electronics, computer applications as well as soft skills courses, safety courses, seminars and conferences. These technical courses are typically conducted by our in-house trainers and support from external training institutes is obtained as required.
How does the team effectively plan and manage quality. Do we have quality certifications in place?
We are proud that the Technical department is accredited with ISO 9001:2008, which emphasises on a number of quality management principles including a strong customer focus. In addition, the department is ISO/IEC 17020:2008 certified, which concerns our inspection criteria, including load test and structural inspection for all equipment's.
Quality, planning and inspection are the pulse of the department. The heart is Maximo, a maintenance management system used to plan, organise and manage maintenance of all equipment at Jebel Ali Port. The quality section effectively manages documents related to equipment, including manuals, catalogue of parts, drawings, test certificates, service history including registrations, renewals and inspections. This library of asset information is accessible through handheld devices which connect to the maintenance system, Maximo, allowing day-to-day capture and access to the information.
How does the technical team encourage innovation?
The team have a proven track record of innovation. In a major step towards mitigating the environmental impact we successfully electrified eight diesel powered Rubber Tyred Gantry (RTG) cranes.
In addition, the team implemented a sensor light system, which is integrated with the crane management.