Lighthouse - May, 2016.
Intermodal 2016
CSS Participates in Intermodal Exhibition and conference
Intermodal South America, which is considered to be the largest platform that provides communications and idea exchange amongst the cargo and logistics fraternity concluded with colours recently. CSS Group takes pride to be a part of the exhibitions as a trade visitor this year also. CSS Group was represented by Siby C Kurian, Vice President for Sales & Marketing. "Every year Intermodal brings in new prospects of business for us at CSS Group and I believe that there is no other better manner we can reach the Latin American fraternity across the globe than Intermodal," commented Siby about the exhibition.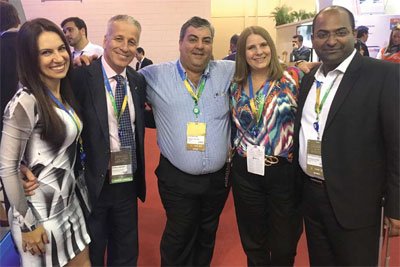 Almost 50,000 professionals from the logistics, cargo and foreign trade industries gathered in Sao Paulo for the three-day event, the largest event of its kind in Latin America. Intermodal South America Transport Exhibition is the leading exhibition and conference event for international trade, logistic, transport and cargo handling.Considered by the industry executives as a strategic platform for generation of new businesses, Intermodal South America gathers during its three days the main players in international and national market, promoting businesses and partnerships, working as a platform for launchings, brand reinforcement, joint-ventures, sales and networking
Brazil can rely on companies from the logistics, cargo transport and international trade sectors to overcome the current crisis atmosphere. In an environment where this word was traded for others such as investment, business and proactivity, over the three days of Intermodal South America, the production chains of these sectors provided a demonstration that it is possible to quickly return to a virtuous circle of growth. From April 5th to 7th at the Transamerica Expo Centre, São Paulo, the event brought together 600 brands from 25 countries as exhibitors and a highly knowledgeable audience of attendees, primarily executives with high levels of decision-making power.
"This 22nd edition of Intermodal has enabled companies to be certain that an atmosphere of crisis can be overcome with more investment and boldness. The ability to recover shown by these sectors is notable and our mission is precisely to stimulate and boost the success of the companies that exhibit with us, gathering together interests and promoting discussions on essential themes for the development of the market in Brazil and Latin America", said Jean-François Quentin, CEO of UBM Brazil, the event promoter.