Lighthouse - January, 2013.
Khalifa Port Opens at 12:12:12
Port Opened by UAE President in the Presence of the UAE Vice-President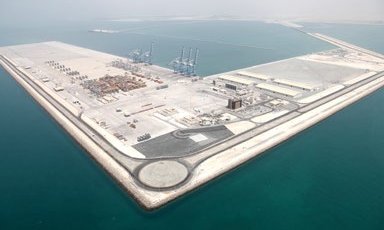 The Khalifa port was officially opened at exactly 12:12:12 on 12.12.12. by President His  Highness Shaikh Khalifa Bin Zayed Al Nahyan in the attendance of Shaikh Mohammad  Bin Rashid Al Maktoum, Vice-President of he UAE and Ruler of Dubai, Shaikh  Mohammad Bin Zayed al Nahyan, Prince Al Waleed Bin Talal and other Shaikhs and senior officials.
The timing of the opening was quite symbolic for a new Abu Dhabi in line with vision 2030 to have the biggest port with a capacity of 5 million containers in the coming five years.
The port has a strategic position in the region, as it will be connected with Etihad rail by 2016 and all UAE ports will be connected by 2017.
Being built as part of Abu Dhabi Vision 2030, the multi-billion dollar flagship project, which is adjacent to Khalifa Industrial Zone Abu Dhabi (Kizad), is designed to accommodate Mina Zayed's traffic and Abu Dhabi's growing trade volumes.