Lighthouse - March, 2018.
LEADING with a VISION
With the recent promotion of Ajay Krishnan to Chief Operating Officer of Freight Forwarding, CSS Group, Lighthouse editorial team sat down to gain insight into his past, what he is looking forward to pushing with his new responsibilities and more.
By Minaal Pervaiz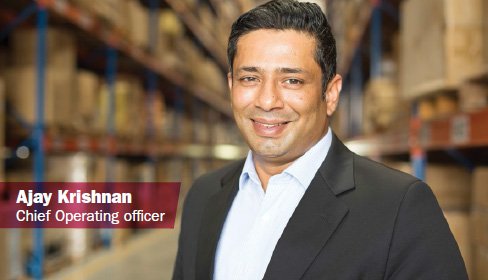 If you were to describe yourself in under two minutes, how would you do so?
Logical, tough, but fair. Hospitality background, came into shipping and logistics quite by accident. It has been twenty years since then.
How did you get into it by accident?
[…] A friend of mine gave me an opportunity saying do you want to try this [As a] hospitality major, I think I was a little ahead of my time. When she came up with the opportunity to join APL, shipping was new to me. It was supposed to be a temporary situation but it just [stuck].
Has your background with hospitality helped you?
Absolutely – coming from a hospitality background, it levels the playing field. You're not in a silo, it opens up horizons and gives you full access into the service industry. Shipping was the first option that appealed to me, excited me. It gave me the opportunity to meet multiple, diverse types of individuals; not one trader is the same as the other.
Tell us how you joined the CSS Group?
I used to handle the CSS Group account while I was in APL. We helped grow the business with a lot of innovative ideas, which actually got me known in the company.
Freight Forwarding was a grey area for me – although we say it's all shipping and logistics, it is very different. You have to engineer services – you have to find a way. Here, [you deal] with freight, land transport, LCL, warehousing, 3PL, relocation. If you want to continue in the logistics industry, the future is in being a third-party agent. The role of the middle man, as we call it, is increasing a lot.
[I was given] a blank slate – the CSS Group had quality Forwarding but we didn't really have a Forwarding division, per say, with the focus that we have today. We have our own network now, our own agents. I was welcomed very warmly because I had some good relationships in place already.
What do you think it takes an employee to get ahead in the CSS Group?
Focus, an ability to understand the objectives of the company and keep your own objectives aside for the time being. There will be an opportunity for both of them to merge at some point, as this happened to me.
What is your renewed focus now for your division?
Growth. Nothing else but growth. You have to take the profile of the company to the next level. We do not want to be known as only a consolidator, a key vendor for a customer. We want a [visibly] balanced profile, saying we cover all products effectively.
What is your personal philosophy on working with Freight Forwarding at this point?
I am enjoying it! No two days are the same and that's the best part about it right. Every day presents a new opportunity. I am a very aggressive individual but balance it off so that I do not come in as overwhelming. So I will continue to try to do that through a balanced approach, excite the sales guys enough to get them to go out and do it. I do not do business because I have to – I do it because I want to. That has been my philosophy throughout. You want to take the best out of the personal objectives, take the company objectives and try to get them to meet.
[…] your aggression and arrogance needs to be measured and in balance. It cannot be too much of one. If people need to understand what you are thinking then you need to talk to them a lot more.
What do you enjoy the most about working here?
The flexibility, the diversity, the energy. It's all about engineering or re-engineering the process. We do not say no, we find a way. That has been a philosophy of the group for a very long time and that is extremely exciting to be a part of.
With the current state of affairs in the industry, what predictions can you make using your knowledge, thus far?
I think the industry is in a state of flux right now. Things change beyond your control. Right now, 2018 looks good. I am not going to predict anything. We're going to ride the wave, going to put in control measures so that we do not fall off the edge of the wave. While it seems steady and stable, it is not. It looks more like the calm before the storm. We have some pretty focused plans in place where we are going to grow our business organically.
There are certain ways people handle failure and success – how would you handle failure for certain objectives, or a division?
Failure for me is more internal; it's not external. Even in success, I beat myself up for failing a lot because you have certain expectations, objectives in anything that you initiate personally, or professionally. I do not have a philosophy or a thought process when it comes to external failures – it is always internal.
How would you motivate yourself?
If you do what I do, if you work with the people I work with, live with the people I live with, and if you are friends with the ones I am friends with, you are motivated all the time. It's only about the energy, but it is the ability to think forward. One of the reasons I grew in both my jobs is because I do not think about today. I have a habit of thinking a year, two years, three years from now. If I have an environment that is challenging, it is more than enough to motivate myself. I need to go home feeling mentally exhausted. I need to go home and say, you know what, that was a good day.
Other than set targets for the rest of the year, is there anything else you have planned with the particular portfolio you are now in charge of?
Targets are one thing, and how to achieve them is the other. It is not enough having a number, It's the process and how we want to achieve that output matters more.