Lighthouse - September, 2017.
Lighter Side of Life – Group Selfie Contest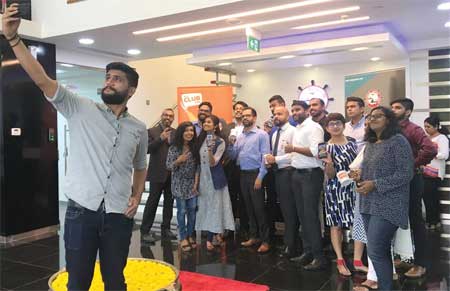 It was a wonderful and lovely afternoon for the CSS staff at Jebel Ali, as they got an opportunity to shed down the stress with sharing some lighter moments with the Club FM RJs, thanks to the selfie competition. The staff at CSS Dubai were engaged by the members of Club FM and Spoonfed APP on account of a very interesting corporate engagement programme, they jointly launched.
Club FM had announced for an office group selfie to be posted from the workplace and CSS team were the first amongst all to respond creatively towards that demand. That selfie fetched them a wonderful entertainment time with the team Club FM and Spoonfed  APP as well as a sumptuous lunch sponsored by them. In fact that was the first lunch party organised by them related with the Selfie contest.
While 99.6 Club FM team included Pavithra Menon – RJ, Carl LaFrenais – RJ,  Justin Raj – Producer, Neena Manila – RJ and Sivaprasad ( Driver ) the Spoonfed team were represented by Najeeb Abdulla – Business Development Manager and Pulastya Vishwas
The CSS team were excited and all the more happy to be in the company of the renowned RJs of the Club FM team and enjoyed the games organized by them. After the lunch was served, prizes were distributed by Club FM to the CSS team which was immediately followed by a photo shoot. Music was also played by the Club FM team to entertain the CSS Staff. The entire programme was held at the Jebel Ali regional headquarters of the CSS Group.
We had a great time with the Club FM and Spoonfed APP team. When we took the selfie, there was no good reason for us to believe that this event will start from our office. I am happy that the pro-active team at CSS proved that they are the best bet in the corporate world of Dubai. Thanks to Club FM and Spoonfed
Aparna Renjith,
Asst. Manager, Customer Service Desk.