Lighthouse - September, 2017.
Ludhiana Becomes The 10th Office of CSS India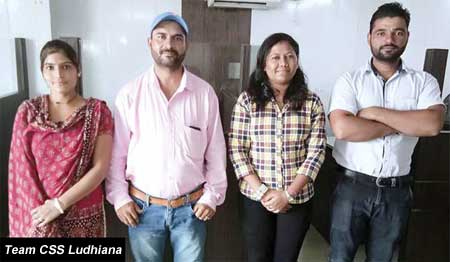 On its glorious one decade completion of services from India, Console Shipping Services India Pvt. Ltd rolled out red carpet from their 10th office to their clients. The doors of their tenth office were opened in Ludhiana, a widely known commercial center in Punjab, north of Delhi. Ludhiana, better known as the "Manchester of India" is an industrial hub in Northern India and one of the biggest dry ports. CSS Ludhiana commenced its services from the heart of Logistics Hub of Ludhiana in full-fledge.
Ludhiana has more small-scale industrial units, which produce industrial goods, machine parts, auto parts, household appliances, hosiery, apparel, and garments. Ludhiana is Asia's largest hub for bicycle manufacturing and produces more than 50% of India's bicycle consumption of more than 10 million each year. Ludhiana produces 60% of India's tractor parts and a large portion of auto and two-wheeler parts. Many parts used in German cars like BMW and Mercedes, are exclusively produced in Ludhiana to satisfy the world requirement. It is one of the largest manufacturers of domestic sewing machines. Hand tools and industrial equipment are other specialties. The apparel industry of Ludhiana is famous all over India for its woollen sweaters and cotton T-shirts; most of the top Indian woollen apparel brands are based in Ludhiana. Ludhiana also has a growing IT sector with multiple software services and product companies having development centres in the city.
"It is an extremely proud moment personally for me as we start our services from our tenth office in India. A decade back when we started our journey in India, we were not sure about the Growth graph of CSS, but in the back of my mind I was sure that the determination of my colleagues will never dishearten our aspirations, and those proved true today" mentioned T S Kaladharan Chairman CSS Group.
The CSS team in Ludhiana is led by Meenu Sharma who will be working in the position of Regional Manager – North India and carries with her an impressive professional background  of 16 years in international logistics and Custom clearance.  Based at Ludhiana she will be covering states like Haryana , Punjab, Himachal Pradesh and the major business hub cities like Sonipat, Ludhiana, Amritsar, Jalandhar, Chandigarh, Baddi and Nala Garh etc.
"We would like to thank all our well-wishers, stake holders and those who stood with us during good and bad times at this momentous occasion. Like any other office in India, CSS will be offering personalized & professional assistance to all segments of operations in the field of Shipping and Logistics, from Ludhiana as well. Our word is always our gurantee" commented Rajesh Arora, Vice President CSS North India.