Lighthouse - January, 2017.
Machinery Movement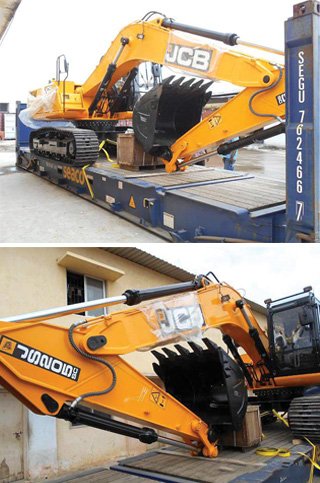 CSS team at Coimbatore office has successfully handled the shipment of excavator JCB machine movement from Coimbatore to Tema, Ghana.  Shipment weighing 21tons with a volume of 93 CBM was handled by well-trained team of CSS. The movement which required close coordination was handled professionally by the CSS projects team with careful planning and meticulous handling.
The volume specification was 9.5X 3X 3.2 meters and was successfully moved on 1X40 flat racks. The entire units were carefully loaded under expert supervision and moved with enough escorts to the destination site. The movement was carried out in November and CMA CGM will take the machines to its destination in Ghana which is expected to reach by January. All necessary documentation including permissions was procured prior to the movement. Team Coimbatore, under the leadership of C. Thainis Raj, Manager Sales & Marketing reports that this is going to be a regular project movement henceforth awarded to CSS.
"CSS offices in the South will be more aggressively exploring the opportunities related with machinery movement, as there are huge hidden prospects involved here" mentioned T K Vishwanath, GM South India. High professionalism was displayed by each and every team member involved in the project and proved once again CSS Group's commitment towards achieving highest quality of service rendition.