Lighthouse - November, 2017.
MAHABALI CRYSTAL AWARD
The Consolidated Shipping Services Group held an annual Pookalam (in Malayalam language, 'Poo' stands for 'flower' and 'Kalam' stands for 'artwork') Competition honoring the Keralite Onam Harvest Festival – throughout all its offices – for the coveted Mahabali Crystal Award on the 10th of September, 2017.
On the competition's fifth anniversary, the CSS Head Office in Dubai won the award, followed by CSLC1 and CSS Logistics holding second and third runner-up positions, respectively. Each office engaged their best creative teams for this traditional celebration, where the front entrance has circular motifs of flower bed (Onapookalam) arrangements.
This year's rules stated that designs had to incorporate the number '5' for the fifth anniversary, as well as each team submitting their photographs for assessment by anonymous guest judges. Congratulations to all our participating teams!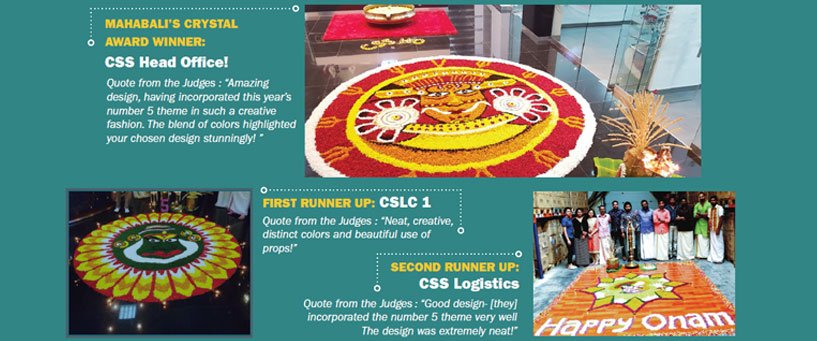 Significance of Pookalam
The floral rangoli, or the 'Pookalam', is an integral part of Onam celebrations. According to legend, King Mahabali who once ruled the region visits during these ten days of the Onam festival. These beautiful motifs made at the entrance of Malayalee houses give his soul joy, ensuring happiness and prosperity forever. It is also said that the ten rings or the steps of the Pookalam represent the ten deities of the Hindu pantheon.
How is Pookalam made?
Nowadays, various flowers are used to get the desired design and pattern. Commonly used flowers are Thumba, Thulasi, Kadali, Mukkutti, Chethi, Shankupushpam, Manthaaram, Jemanthi and Chembarathi.
Pookalam forms a vital part in the welcoming celebration of King Mahabali whose soul visits the state in the ten days during Onam. Designs made at the entrance set the essence of the festival thus ensuring long-term prosperity and happiness.
Onappookkalam symbolizes unity in diversity. The use of many different flower petals to make a pookalam is symbolic in the coming together of hearts in society. Flowers of various fragrance, color and quality gather in one pookalam, banishing all discrimination, and expressing gratitude and devotion to the Lord.
About the Consolidated Shipping Services Group
Consolidated Shipping Services Group is one of the fastest growing NVOCC in the region. The CSS Group today is one of the leading integrated freight forwarding solutions provider with close to 25 years of experience. The company – through its corporate diversity and willingness to keep learning and relearning – has earned its collective experience within the industry. With a team consisting of over 750 experienced and dedicated professionals across 20 offices, CSS is able to meet a client's freight forwarding requirements – be it by sea, land or air.
The CSS Group adapts itself to the latest trends in the industry, offering efficient and feasible solutions to its clients' and associates. For more information, visit www.cssgroupsite.com