Lighthouse - February, 2021.
MIDHUN GEORGE MOTIVATES CSS ABU DHABI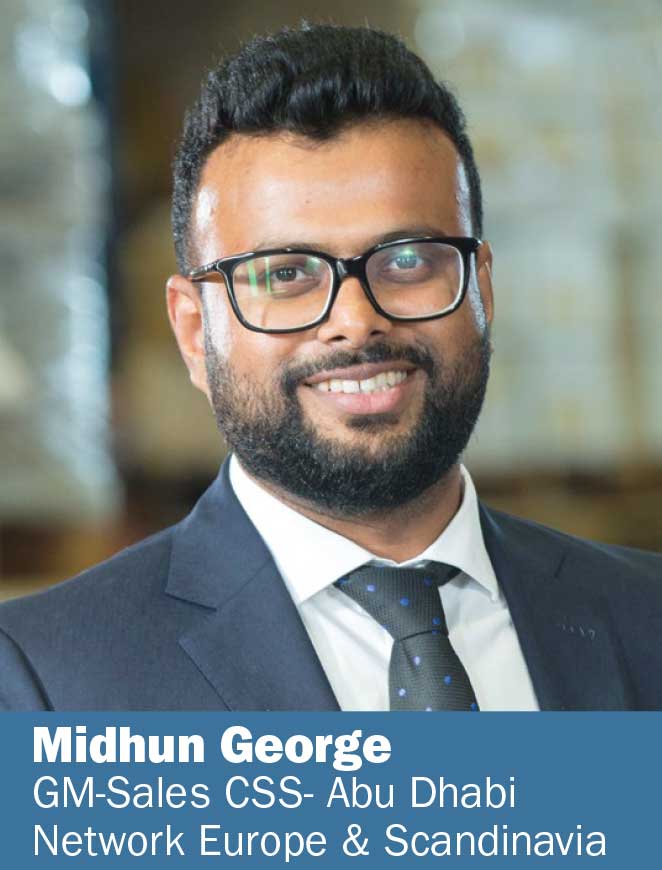 It takes a conscious effort to build and maintain a workplace where every employee feels like their work is meaningful. CSS is truly such an organization. 
I joined CSS in September 2013 as a Sales Manager. My main role was to develop individual sales and deploy a new sales team for CSS Abu Dhabi. CSS has provided me with a platform to grow professionally and has given me endless opportunities. 
Today I hold the post of General Manager – Sales (AUH), Network Europe & Scandinavia. My learning curve has always been progressive with CSS. I acquire new skills and knowledge every day with my exposure to value-added services and project cargo shipment. My portfolio includes an additional responsibility to develop the agency network (Europe) of CSS Group. 
Team CSS Abu Dhabi
Our branch in Abu Dhabi is strategically located amid the industrial hub. We have good access to airports, seaports, customers, and government departments. The highly dynamic team comprises a group of motivated and driven sales personnel. The operations team is well versed with all procedures, documentation, and other operational technicalities. Tackling hurdles and troubleshooting problems here is quicker, thanks to a team of experts with whom I collaborate.
Present and Future Trends 
The hiatus due to COVID-19 has thrown the industry out of gear. Sales figures have not reached desired targets. Apart from this, we face cutthroat competition from other competitors in the market. Slim margins and an increase in the bargaining power of customers has been the trend in the industry. In such an environment, one needs to stay relevant. We need to explore and focus on niche clients to create newer markets. Now is the time to display the art of selling and customer service.
In the year ahead, we intend to get registered with major government entities for their RFQ. One of the key focus areas for us will be the oil and gas business. If we secure a footing in the oil and gas sectors, the branch will benefit much. Another direction we need to take is to invest in moveable assets.
Once we emerge from this pandemic, the global economy will surely improve. Many positive trends are already underway in the global economy. Many pending projects will open up, and there will be greater prospects in commodity trade and e-commerce. At CSS, we should be well equipped to rein in these positive trends into our business.
Determination and Hard Work – The Way Forward
Hard work is the essential key to success. The focus needs to be on our key responsibilities to exceed expectations. We need to stay motivated, sharpen our skills and keep high standards for ourselves. 
Over the years, the top management at CSS has always been approachable and supportive. Most of all, they have displayed themselves as the epitome of optimism. With their uncompromising sound counsel, CSS Abu Dhabi can achieve