Lighthouse - March, 2017.
Moving Cryogenic Tanks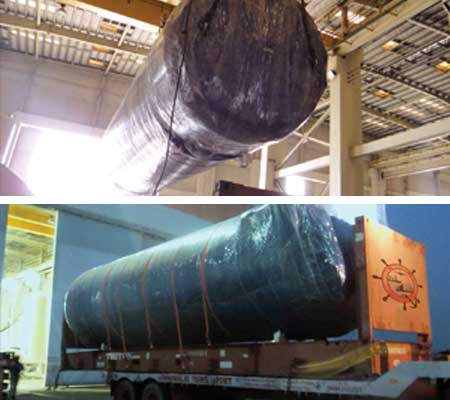 CSS Chennai successfully handled one major movement of cryogenic tanks recently. During the first week of December 2016 the project was awarded to the CSS office and subsequently they received the confirmation to handle the project. An extensive study was conducted regarding the movement of the units and clearances needed in place for the movement of the 18 ton cargo with the volume specification of 03 x 40 OT and 01 x 40 FR. The scope of work included the cargo being taken out from the factory and moved all the way to the port through the congested city of Chennai. The climate too was totally adverse for the movement due to civil and political unrest during the time in the city of Chennai. "Chennai team of CSS did a commendable job in tacking all adversities and moving this cargo with utmost precision and care. I feel proud for my team" commented Sudarshan, Vice President, CSS South India.
Highly experienced team of professionals from the CSS Chennai office did study the inch by inch movement details that needed to be carried out. The cargo was meticulously lashed on to flat rack trailers with all precautions ready in hand. Finally the cargo which needed to be shipped to its final destination of Buenos Aires, reached safely, the port of Chennai to be loaded on to the vessel.