Lighthouse - November, 2015.
Moving Skids and Pipe Racks in Oman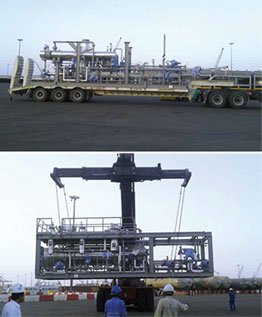 The Projects team at CSS Group successfully completed a major movement of Skids and Pipe racks from Sohar port to OXY Block 2 site, Oman. The movement which required close coordination was handled professionally by the CSS projects team with careful planning and meticulous handling. The 1300 CBM volume of cargo were moved in 10 X 40 feet flat racks (OOG) and 10 X 40 feet STD in low bed trucks with proper permissions in place.
The entire units were carefully loaded under expert supervision at the Sohar port and moved with police escorts to the destination site. The movement which took 8 days (from clearance till delivery) was successfully completed inviting highest client appreciation. High professionalism was displayed by each and every team member involved in the project and proved once again CSS Group's commitment towards achieving highest quality of service rendition.