Lighthouse - January, 2015.
New Corporate Video in The Making
CSS CORPORATE VIDEO-SHOOT IN DUBAI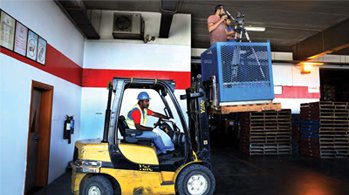 CSS Group offices witnessed the new corporate video in the making for CSS Group. The programme was in relation to their forthcoming 20th anniversary celebrations going to be held in Dubai during the month of March. Lemon studios, Kochi, Kerala were engaged with the assignment of the corporate video production. Renowned technicians from the corporate world were engaged with the video shoot and production programme. The first schedule of the shooting was completed at the CSS Group offices in Jebel Ali, Cargo Village, DAFZA, Creek customs office and the Head office in Oud Metha buildings during the month of December. The video is planned to be released during the 20th anniversary functions. The forthcoming movie will unveil CSS Group activities and their facilities to a large extend to their clients. The Corporate video will be circulated then for the marketing & sales purposes.