Lighthouse - November, 2010.
Onakkazhcha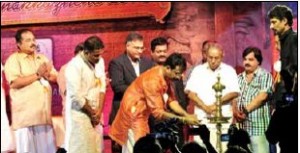 On Friday September 24th, 2010, Devas Holidays & Travel Services India Pvt. Ltd. a division of CSS Group was honoured to be the associate sponsor of the AKCAF Onakkazhcha 2010 where Padmashree Dr. ONV Kurup the chief guest of the event was felicitated for winning the highest literary award in India, 'Njaanapeedam (Jnanpith) Award' for the year 2007 and 2008. Since its inception 11 years ago AKCAF has been one of the largest organizations engaged in various social empowerment activities. Onakkazhcha 2010 was a celebration of the harvest festival, Onam for Keralites worldwide. The day gave a number of surprises for the nonresident Indian community in UAE; the traditional procession competition was one among them. With a variety of Kerala art forms like Theyyam (Popular Hindu Ritual for Worship), Chenda Melam (Kerala Drums), Kavadiyattam (a ritualistic dance form of Kerala), Shinkari Melam, Pulikali (a dance form with Tiger's costume) etc showcased by the 50 member college alumnus affiliated to AKCAF made up a splendid evening.

Followed by the procession a public meeting was held which was inaugurated by His Excellency Sanjay Verma, Consul General of India in Dubai with other dignitaries Padmashree Dr. ONV Kurup, Saroji, Padma Shri Mattanur Shankaran Kutty Marar and Dr. Roy C J. As a token of sincere gratitude towards the love and affection for one of the greatest Indian poet, AKACF honored him by presenting a Memento and 'Ponnada'. As part of the AKCAF Onakkazhcha an Athapookkalam (Flower Carpet) competition held on 17th September, the prizes were given away for the winners of these competitions. The evening entertainment was followed by the musical fusion extravaganza led by the renowned percussionist Padmashree Mattanur Shankarankutty Marar, piano wizard Stephen Devassy, violin maestro Balabhaskar and Thavil (barrel shaped percussion instrument) expert Karunamurthy enthralled the audience.

CSS is proud to be a part of this celebration and auspicious occasion of the harvest festival which crossed the borders and entered the life of the Non Resident Indian Community in UAE.