Lighthouse - November, 2016.
Open Yard Storage In Jebel Ali From CSS Group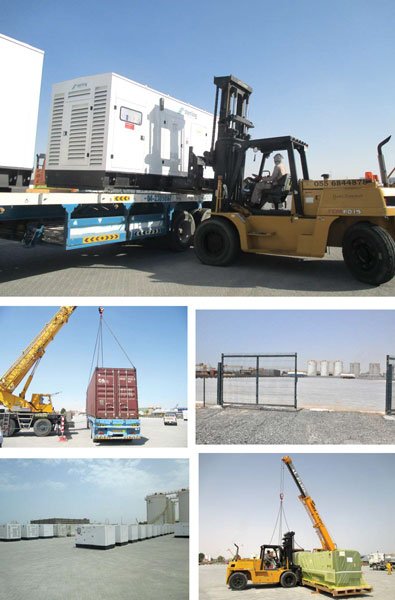 The new open yard storage facility inside the Jebel Ali Free zone is CSS Group's latest contribution to the ever growing demand for open yard storage requirements in the UAE. More than 100,000 Square feet area is allocated within the free zone premises and commissioned along with the Consolidated Shipping Services new Regional headquarters. The facility is a welcome initiative when it comes to requirements like the storage of large cargo such as machinery, construction materials equipment, automobiles and other heavy duty equipment. The company ensures all safety measures to the convenience of the customer.
The open yard facility is fully fenced and interlocked with sufficient lighting and is monitored by a 24 hour on-site security team. The location of the open yard is near R/A- 07 JAFZA North and adjacent to Jebel Ali Port general cargo berth. "We have always ensured maximum client satisfaction in all our initiatives. Our new addition to the existing facilities can be seen as a contribution from CSS, towards the ever growing demand for open yard storage requirements in the UAE region and thereby improve the trade within our industry" mentioned Chandrakala (CK), Director, Operations, CSS Group.
Salient Features
Total area of 100,000 Square Feet
Full managed by CSS Staff & State of the art equipment
24 hours security
Offers short term and long term storage
CSS Group, headquartered in Dubai has become one of the most trusted partners for freight forwarding and logistics among the global fraternity within a short period of time. Professional and dedicated services offered in the field of Ocean Freight, Air Freight, Local & International Land Transportation, Projects Management, Supply Chain Management and Personal Effects Management has brought in accolades and recognition for the entire CSS Group. Being a prominent name in the field of freight forwarding in the Middle East and the Indian Subcontinent, CSS Group has to its credit an enviable list of Global Network Partners. CSS has a dedicated and highly skilled team of over 750 professionals around the globe offering integrated freight forwarding & logistic solutions to varied clientele.
Key Contacts:
Don Raveendran
Asst. Manager - CFS Operations
don@cssdubai.com
Sreenath V
VP-Operations & Projects
sreenath@cssdubai.com