Lighthouse - November, 2011.
Overriding Recession
CSS Kolkata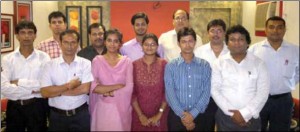 Kolkata, like any other major cities of India is slowly being entangled in the grip of recession. One has to say that doing business is becoming an expensive affair, when you see the graphs from the Shipping Industry. This is not the case only with Kolkata or India. The entire world is suffering from recession in one form or other.

CSS Kolkata is successfully riding the waves of this so called recession phenomena. The management confirms that a change in the recent political atmosphere of this mighty city has till date has not done any thing better of this situation. But CSS with its professional experience and the trust shown by their partners has managed the situation in a very good way. Over the last months, some remarkable growth was achieved in the LCL volumes. The company is planning for some major breakthroughs in the Projects sector as well.

CSS Kolkata management and staff takes pride for being considered one amongst the first three players, in terms of business by the shipping fraternity in their region. A result they achieved only because of hard work and commitment. Plans are underway for own warehousing facility to cater its business partners in a better way by the CSS management in Kolkata.  Presently CSS India from its operational base in Kolkata caters to the need of the entire West Bengal region, Orissa, Tripura and Assam. They extend their servicing to the neighboring countries of Nepal and Bhutan as well. The only way to penetrate the interiors and some remote locations in the North Eastern region is to have a strong and efficient transportation network. Concur service is available in some parts but it only depends upon the load factor and it cannot guarantee timely service.