Lighthouse - July, 2015.
Pedaling to a Better Future
THE SMART COMMUTE INITIATIVE FROM MUMBAI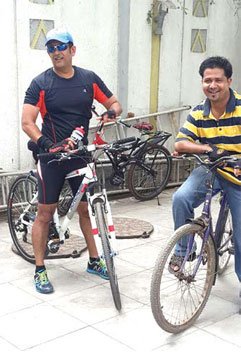 The world environment day was welcomed by the CSS Mumbai in a unique manner. Under the guidance of CSS India Director, Jairam K R, "The smart commute" promotion was launched during the world environment day. This was an ambitious effort to promote the concept of "Cycle to work", which was well received by many young and enthusiastic nature lovers of Mumbai. The concept of Cycle to work was a humble effort to reduce the everyday commuting problems, the people of Mumbai faces during the heavy traffic of the rush hours.
By embracing this concept you can easily beat the traffic congestion, Improve air quality, reduce carbon foot print, smart way to remain healthy and obviously make this environment a better place for the future generations. A seasoned marathoner by nature, Jairam's new concept and effort was well appreciated launched especially on the World environment day. Many working professionals keen in becoming a smart commuter, participated in this initiative.
Jairam himself is keen in improving his long distance cycling skills with his friends and team mates during this season. Let us wish him and his team all success!!!