Lighthouse - February, 2021.
PETER BELAVENDRAN PILOTS THE AIR FREIGHT VERTICAL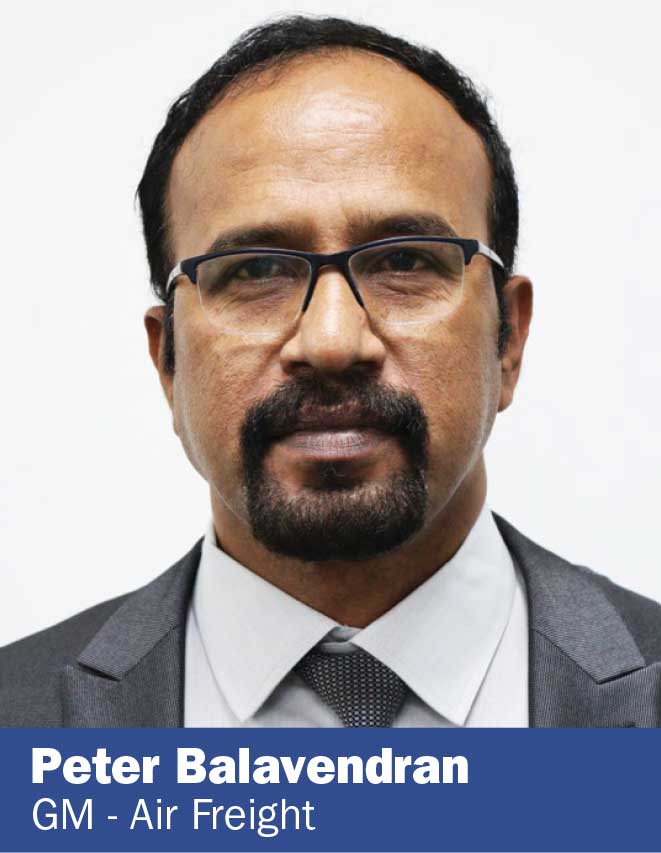 With an innate ability to handle multiple tasks at a time, I also possess the capacity to pursue long term goals with focus and dedication. The past year has been a great learning experience, and I am excited about contributing to the CSS vision in the years to come. 
Handling the Air Freight vertical, our team holds the responsibility for import, network development, consolidation, regional air freight, product development, air freight, export sector-wise volume development, Aircraft on the Ground/Dangerous Goods (AOG/DG) product development along with charter and project cargo.
The Way Ahead
We intend to build our agents network for greater synergy, which will enable us to provide competitive product solutions in both imports and exports along with cross-trade to drive volumes. We will also be implementing the new in-house product called Courier/DG/AOG & Perishable movements.  
The world is our oyster concerning the air freight industry. By integrating UAE and Middle East with a greater focus on CNSL and respective airfreight products within the CSS Group, we are confident of conquering this buoyant market segment. 
Vision for the Future
We plan to develop the airfreight division across all CSS locations to offer the airfreight product solutions to our overseas partners and local clients. This initiative will help us enlarge our footprint, thereby increase the airfreight volumes both regionally and internationally.
We foresee that MNC forwarders and major courier companies will approach clients offering heavily discounted rates to fulfill their capacity due to the present situation. The hour's need is to develop CNSL to convert + 100 Kgs shipments cost-effectively to provide door-to-door service to our clients.
As we finetune the product offerings, we will drive in more airfreight volumes and achieve more than budgeted targeted volumes of 2021. With a long-term vision of setting up a separate CSS Airfreight Division within CSS Group, I believe that positivity combined with the right mix of dedication & teamwork will help us win this game.