Lighthouse - March, 2012.
Phoenix International Visit CSS Group In Saudi Arabia And UAE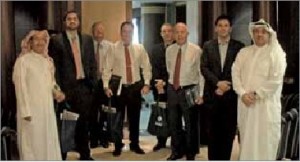 Phoenix International, Francois Wolberg, Business Development Manager, Global Textile Logistics and Brandon Joiner, Sales Executive (Atlanta) traveled to CSS Saudi Arabia and CSS UAE offices last November to visit the newly appointed partners, CSS Group in the Middle East.
The first stop was in Riyadh where they spent three days with Ramzi Al-Dulijan (Managing Director, CSS Saudi Arabia) and his team. Together they visited important customers that Phoenix handles in their Atlanta branch. "We found that CSS Saudi Arabia is a dynamic team and willing to help and support our activity," added Brandon Joiner, Sales Executive (Atlanta).
The second stop was CSS headquarters in Dubai, where they met with CSS delegation including Ken Dinnadge (VP, Business Development, CSS), Roshmon Manoli, Route Development Manager, North America and Kaveen Amarasinghe,  Sales Executive.
Brandon, Francois and the entire CSS team visited several customers in Dubai and Abu Dhabi, and had an opportunity to develop sales and learnt the art of collaborating and sharing information in order to close new deals.
"Globally we have been very impressed by CSS, and we feel we have a great partner to work with out of countries such as UAE, Saudi Arabia, Kuwait, Qatar, Bahrain, and Oman," added Francois Wolberg, Business Development Manager, Global Textile Logistics
Vital Statistics At Phoenix International
Founded in 1979
Headquartered in Wood Dale, Illinois (Chicago)
2,000 employees
One of the Top Work Places1
One of the Healthiest Companies in America2
Top 30 Best Places to Work3
42nd largest privately held company4
19th largest air export forwarder in North America5
24th largest freight forwarder6
Fiscal Year End: June 30th
Fiscal 2011 Revenue: $1 Billion
Ocean Freight Volume: 250,000 TEUs
Air Freight Volume: 41,000 Tons
Average Growth: 15-20%
Global network of more than 300 locations in 125 countries
    USA – 23
    Pacific Rim – 25
    South Asia – 12
    Europe – 11
    Oceania – 1
    Exclusive Agent Network – 225