Lighthouse - September, 2013.
Projects @ A Glance
CSS PROJECTS, OIL & ENERGY UNDERTAKES COOL DELIVERY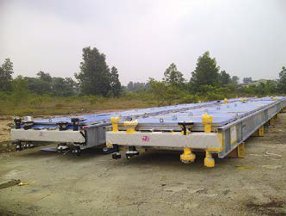 The Projects, Oil & Energy division of CSS Group recently moved 1200 CBM of air cooler units and accessories from a supplier's yard in Malaysia to the port of Alexandria which is on the West Verge of the Nile Delta between the Mediterranean Sea and Mariut Lake in Alexandria, Egypt.
The entire job was undertaken smoothly and effectively in a very short period, with close coordination with both the agents and supplier. The task ahead of the team at CSS Projects, Oil & Energy was not easy as they had received the job at a very short notice from the clients, but the team took up the challenge and proved once again their dedication and commitment to the customers' needs.
"Considering the notice period we received to deliver this job, it took the team a lot of dedication and hard work to ensure the delivery was timely and according to the clients expectations," added Raj George, Senior Vice President, Projects, Oil & Energy, CSS Group.