Lighthouse - March, 2013.
Projects Oil & Energy Another Successful Movement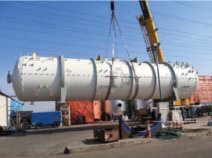 Projects Oil & Energy division of CSS recently completed yet another successful movement of Pressure vessels from Hamriya Port in Sharjah to Ras Laffan. The 3 units weighing 53 tons each was a part of the ongoing Barzan On shore Project. As an initial phase a complete route study was undertaken and required permissions and escort put in place prior to the start up.  3 X 6 axle low bed trailers were positioned for the loading and movement of the units to the site. What made this movement more interesting was the height of the units which were 4.9 meters each. This was resolved by well planned route study and the knowhow of the region by our team. The units were delivered on time and the Projects, Oil & Energy division had accomplished yet another successful movement.