Lighthouse - February, 2021.
RAHAT TALREJA LEADS CSS INDIA AS VICE PRESIDENT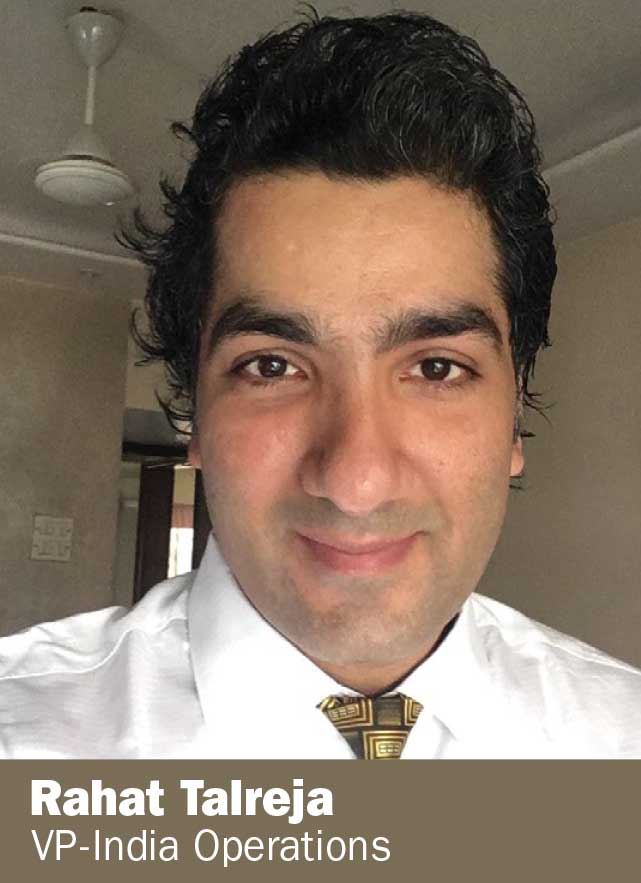 I was just back from New York after my stint as National Route Development Manager for Tigers Worldwide Logistics (formerly known as Kamino International) when I decided that I wanted to stay back in India and build my career here.  
 At the same time, the CSS Group was rolling out its expansion plans across India. That's when I was awarded the opportunity to be part of the core management team in 2007. 
A Journey of 14 years
My initial days were spent traveling across the length and breadth of India and also overseas. From meeting clients and agents to attendings logistics events, conferences, and seminars to establish our presence and service capabilities both within and outside India with our various product verticals. From building local teams and orienting them on work ethics, business process flow, data management, risk management, cultural quotient, and emotional discipline. 
I was able to instill within the teams the power of being low key, business performance over public performance, ability to challenge oneself, reconstructing your benchmarks without bothering about the competition, importance of training, and altering business strategy to suit the macro environment. 
All these aspects have become a part of my daily work life till today!
Change is the Only Constant
The 1990s, 2000s, the 2010s, and now 2021 have depicted different characteristics. The pace of change has accelerated. Every ten months, the world is changing now, which happened at a slower pace with a ten-year earlier gap. Also, work is abundant, so work should be co-related to resource deployment because, unlike work, resources always have limitations for individual organizations. 
The Shipping Business Dynamics
The shipping business is 60% a legal business governed by a framework of rules, regulations, documents, checks, and balances, which define roles and duties with financial liabilities for each person involved in a transaction. The remaining 40% is capital allocation. What you allocate, to whom with what risk, what return, working capital cycle, transition risk.
Therefore, it's a marriage of capital risk with legal risk. In this scenario, the crux of any management's thinking should be to manage these two pillars most effectively. 
Aligned to Organizational Objectives
If anything, people cause one to defocus from the core goals. Too many opinions and too many varying views can easily make one go astray. You may hire a very seasoned FCL salesperson but whether he aligns with your own goals is a different topic. We must listen to everyone but do what you have to, especially when you are clear on our organizational objectives. I always believe money in the pocket is money. Rest all of it is an act of circular jugglery.
Vision for CSS India
The vision for CSS India is to be the best in class in all financial parameters. From ROCE, ROE, EBIDTA margin, PAT margin, working capital days, and zero NPA along with high standards of tax and legal compliance, which is always our thrust. We do not believe in taking short cuts, a norm in the Indian market. Our Group Chairman's unhindered support and faith enable us to achieve this level of financial fitness.
With freight rates having quadrupled and the capital cycle adding another 30-60 days extra, the capital requirements will increase to more than five-time soon. We need to use it efficiently! 
If you make a crore by deploying a crore, you know the job. If you make a crore by deploying five crores, you need to be oriented, but if you make a crore by deploying ten crores, you need to be in Japan. This is my message to my team.