Lighthouse - July, 2017.
Rail Ballast Cleaning Machine Movement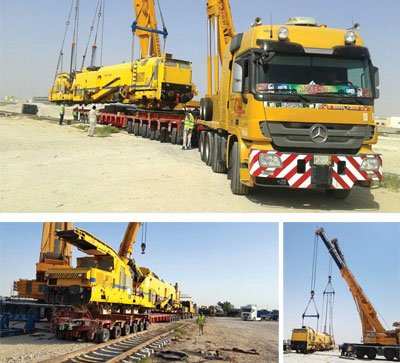 The Projects team at CSS Group successfully completed a major movement recently.
One Unit of Rail Ballast Cleaning Machine of 29 x 3 x 5 M and weighing 95 tons was moved from Hofuf site in the Kingdom of Saudi Arabia to Dammam Port. The scope of work included lifting, loading and transport from the origin to the destination.
The experienced CSS projects team conducted a survey of the route and the destination prior to the commencement of the move. Each point of the entire project was carefully assessed to ensure a fool proof and smooth journey of the cargo. The cargo movement was conducted using Two 250 ton cranes for lifting and 12 axle trailer of 6 meters extended platform for transportation. "Each movement provides an opportunity to learn something new and so was this cargo movement for us. We are excited to have this project successfully completed" commented Sajith Vijayan, Manager, Operations, Projects Oil & Energy, CSS Dubai
Prior permissions were taken and escorts were arranged for the entire route. "The whole project was handled extremely professionally from start to finish, and allowed for CSS to showcase its continuous commitment to its clients to provide the highest quality of service. CSS Projects team's experience and knowledge is the key factor to our high level of success percentage", commented Raj George, Senior Vice President, Projects Oil & Energy, CSS Group, after the successful project completion.