Lighthouse - April, 2011.
Ritchie Bros. Conducts Record – Breaking $57M Unreserved Dubai Auction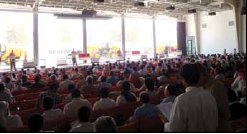 Ritchie Bros. Auctioneers, the industrial auctioneer, conducted a record-breaking auction in Dubai, United Arab Emirates last week (March 8 – 9), selling $57m of heavy equipment and trucks—the highest gross auction proceeds ever generated from a Dubai auction.

The auction also set new Dubai site records for on-site and online bidder registrations. In total, more than 800 unique bidders from 59 countries participated, competing for the 2,340 heavy equipment items and trucks sold. Buyers from outside the United Arab Emirates purchased close to 60% of the equipment in the auction ($32m worth).

Of the 2,340 heavy equipment items and trucks sold on behalf of more than 240 consignors in last week's Dubai auction, there were 20 late model Caterpillar 777D rock trucks, which sold for a combined $15.7m to buyers from Australia, Germany and the United Arab Emirates.

Ritchie Bros. also conducted several other multi-million dollar unreserved auctions last week in Fort Worth, Texas; Toronto, ON, Canada; Saint Aubin Sur Gaillon, France; Olympia, WA, USA and Edmonton, AB, Canada.

Strategically positioned and Head Quartered in Dubai UAE, CSS Group has become a name to reckon within its own field of knowledge and has created its own trademark and brand name when it comes to providing a complete customised new and used construction equipment shipping and logistics support services to manufacturers, distributors Auction houses and their associated clients when dealing with of all types of new and used heavy construction equipment. CSS's ability to supply this demanding sector with innovative logistical solutions for new and used equipment is recognised throughout the world and we are proud to be considered as the prime option for most of the leading manufacturers. At CSS We offer a complete range of logistics management services – IT Systems, inventory management, warehousing and operations management.

Watch out for the next auction in Dubai, UAE on May 10th and 11th 2011, log on to www.rbauction.com for more details.  For enquires email: ship-heavy-equipment@cssdubai.com