Lighthouse - November, 2014.
Sales Strategy Meet 2014
CSS GROUP HEADS TO EUROPE THIS TIME FOR THEIR PRESTIGIOUS SALES STRATEGY MEET THIS YEAR.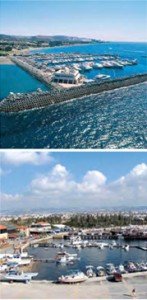 The Sales Strategy Meet 2014 of CSS Group will be held at the beautiful destination of Paphos in Cyprus.  As part of enhancing the sales programme, every year, the middle & top management of the group company assemble at any of the renowned destinations of the globe for discussing about the past sales and designing new sales programme. Each office and each department will have separate presentations and suggestions regarding the sales enhancement. All suggestions will be finally reviewed by the Top management who approves a consolidated sales programme which will be incorporated into the sale process.
The network partners of CSS Group will also participate on invitation as guests on the last day session and present their programme to CSS Group. Needless to say, that the sales strategy meet programme is one of the most important driving forces that played as a fillip to most of the strategies CSS adopted in the last two decades of their operation out of Middle East & Indian Sub-continent.
The meet will be concluded with a big bash of entertainment programme.
About the destination:
Paphos is a coastal city in the southwest of Cyprus and the capital of Paphos District. In antiquity, two locations were called Paphos: Old Paphos and New Paphos. The currently inhabited city is New Paphos. It lies on the Mediterranean coast, about 50 km (31.07 mi) west of Limassol (the biggest port on the island), which has an A6 highway connection. Paphos International Airport is the country's second largest airport.
Near Palaepaphos (Old Paphos) at the seaside of Petra tou Romiou is the modern mythical birthplace of Aphrodite, the Greek goddess of love and beauty and the founding myth is interwoven with the goddess at every level, so that Old Paphos became the most famous and important place for worshipping Aphrodite in the ancient world. In Greco-Roman times Paphos was the island's capital, and it is well known for the remains of the Roman governor's palace, where extensive, fine mosaics are a major tourist attraction. Paul the Apostle visited the town during the 1st century AD. The town of Paphos is included in the official UNESCO list of cultural and natural treasures of the world's heritage.
Paphos enjoys a subtropical-Mediterranean climate, with the mildest temperatures on the island.