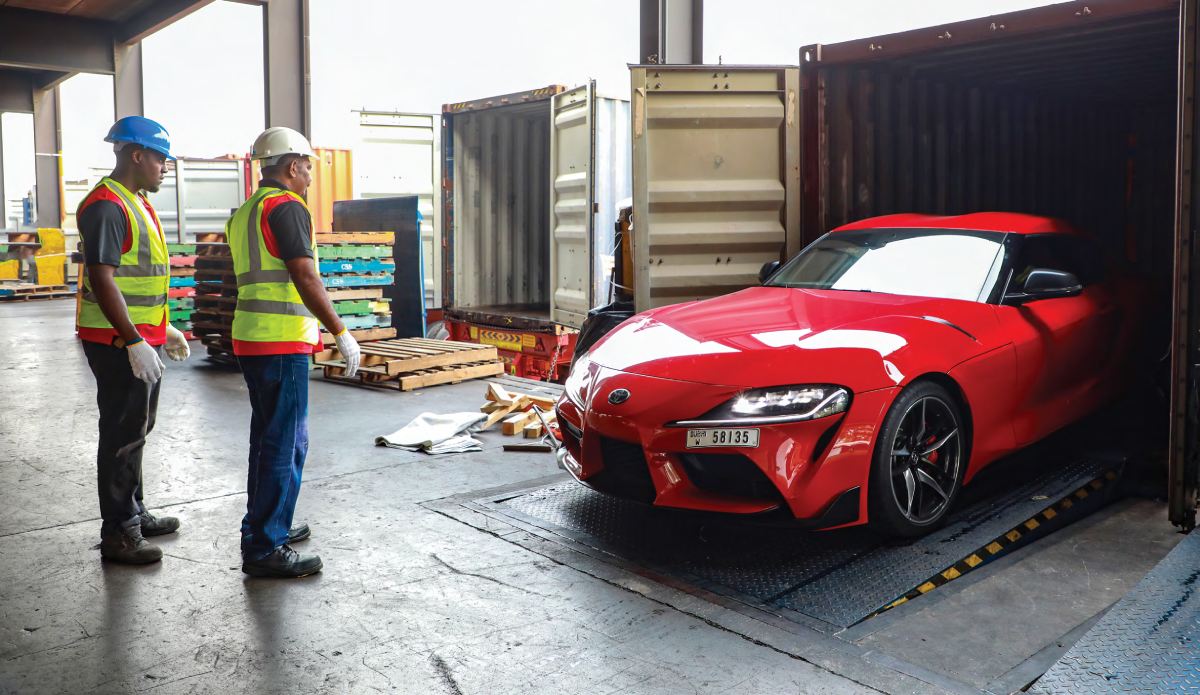 CSS on "Fast and Furious" lanes!
CSS Group's Automobile Logistics wing had yet another opportunity to undertake an across-the-ocean shipment of a luxury vehicle to Kerala, India. This time it was to transport the luxury sports car Toyota Supra 2022 from Dubai port to Kochi. The Toyota Supra is a car with a 335-horsepower inline six-cylinder turbocharged engine that is paired with an eight-speed automatic transmission and rear-wheel drive. The orange 1993 Supra driven by the late Paul Walker in the original 'Fast and Furious' movie sparks a love for this Toyota model amongst the millennials.
CSS Automobile Logistics Does It Again… And Again
The CSS Group's Automobile Logistics division specializes in handling shipments of high-end vehicles. In the past, it has undertaken many successful shipments. In 2020, CSS facilitated the shipment of the vlogger Shakir Subhan aka "Mallu Traveller's bike which was stuck in Azerbaijan due to the COVID-19 pandemic. Later, a Ford F150 Raptor was safely shipped from Dubai to Cochin. In the recent past, CSS handled the shipment of a Ford Mustang from Jebel Ali to Cochin on 19th January 2021. On 18th October 2021, there was an air shipment of a Lamborghini Huracán belonging to a Dubai-based businessman from the Malappuram district of Kerala. It was even returned to Dubai after the stipulated time of six months.
ATA Carnet – The Passport for Goods
For transporting vehicles across borders, the ATA Carnet is vital. ATA Carnet, referred to as the "Passport for goods," is an international customs document that permits the tax-free and duty-free temporary export and import of non-perishable goods for up to one year. It has all the unified customs declaration forms that can be used at every border crossing point.
Smooth sail for Toyota Supra
Upon receiving this carnet, the "Toyota Supra" undertook its voyage from the Dubai port. The transit time across the Arabian Sea from Dubai to Kochi is around five days. On arriving at the Kochi port, the CSS office in Kochi sprang into action. They provided all the support and guidance needed to release the vehicle along with clearances required by the Customs department. The luxury sports car was delivered to the esteemed customer with minimum wait time and zero hassles. The customer also remarked that they were delighted with the whole process and were impressed by the smooth flow. The CSS Group's Automobile Logistics division has once again proved its prowess in handling shipments of automobiles seamlessly.
Despite being a Non-Vessel Operating Common Carrier, CSS possesses a unique combination of talent, resources, and partners across the globe. With facilities in Dubai, Abu Dhabi, Sharjah, Bahrain, and Oman, CSS has an exceptionally strong worldwide network. With large storage facilities, specialized racking of vehicles, and a technology team that fully manages the end-to-end operations, CSS has become a trusted name in Auto Logistics. CSS arranges for door-to-door delivery of the vehicles under carnet, including the return shipment to Dubai within carnet validity and destination clearance, thus assuring customers have a smooth sail and hassle-free loads all the way through.
CSS remains committed to delivering efficiency and seamless movements of high-end cars through its trusted network operations year after year.