Lighthouse - September, 2016.
Skid Movement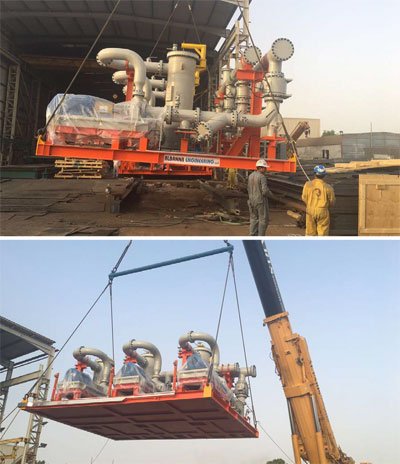 CSS Sales Jebel Ali team has done a movement from Al Quoz to Dry Dock for a FPSO project. One cooling water circulation Pump Skid was the machinery. The skid weighing 53 tons with a volume of 291.43 CBM was handled by a well-trained team of CSS. As is the practice, extensive study and survey was conducted as part of this movement regarding the Origin, destination and the travel route. Each point of the entire project was carefully assessed to ensure a fool proof and smooth journey of the cargo. Dimensions of the Skid was 9.2 x 7.2 x 4.4 meters (L x W x H). Loading and transportation was the scope of work for CSS. Superlift cranes weighing 500 tons were engaged for the process.
"All sorts of licenses required for the move were in place and technical teams were involved for a fool-proof movement process. Such project movements give us chances to understand something new always." commented Hinna Hussain, Team Manager, Sales Jebel Ali team. The entire team did a commendable job on this project movement, as mentioned by the CSS Senior Management.