Lighthouse - March, 2013.
Strengthening Bonds
CSS VISITS ORIENTAL LOGISTICS GROUP TAIWAN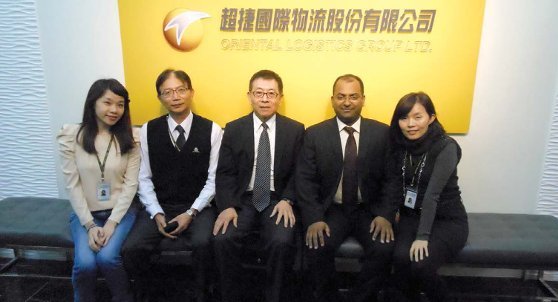 As part of its continuous process for building business relationships while promising mutual growth, Siby C Kurian, Senior General Manager, Sales & Marketing CSS, recently visited Oriental Logistics Group in Taiwan. During his interaction with OCL's Coco Hsiao, Danny Chang, Julia Huang and Allen Tsai, various aspects of freight forwarding initiatives were discussed while continually promoting further enhancements on the Far East/Middle East trade lanes. Commenting on this recent trip, Siby added, "During my time with Oriental Logistics Group-Taiwan, we had an excellent platform to discuss and strategize ways in which both companies can continually grow our brands together. The hospitality extended by OLC was excellent and I would like to take this opportunity to thank them for generosity and productive meetings."
"It's an honor to work with CSS for over 11 years since year 2002, and due to this excellent business relationship we are able to achieve good business performance in the Persian Gulf area owing to CSS' well-organized system and complete service of CFS. CSS is definitely our best partner in the Persian Gulf area and we will continue the successful, fruitful and long-term cooperation with CSS for the years to come," added Allen Tsai, President of Oriental Logistics Group Ltd.
About Oriental Logistics Group Ltd. (OLC) was established and headquartered in Taipei, Taiwan in March of 2000. After sometime it established branches in Taichung, Kaohsiung, Hong Kong, Shanghai, Wuxi, Shenzhen, Dongguan, Xiamen, Quanzhou, Putian, Fuzhou, Ningbo, Qingdao, Zibo, Weihai, Jinan, Huangdao, Zhongshan, Tianjin, Guangzhou, Dalian, Zhuhai, Ho Chi Minh and Haiphong. The staff strength has grown from 30 employees in early 2000 to over 900 by 2013. With a professional and experienced team offering excellent service quality, OLC has the honor to pass the severe competition in its marketplace and be listed on the TOP 500 Service Industries in Taiwan for consecutive years in a row.