The Northwest Seaport Alliance (NWSA) saw a surge in roll-on/roll-off (Ro/Ro) volumes from cargo out of boxes, with the increasing trend of port congestion and high container rates in 2021. The overall breakbulk volumes are up by 25 percent, with port executives expecting the movement to strengthen in 2022. The NWSA is a marine cargo operating partnership of the Port of Seattle and Port of Tacoma and manages the container, breakbulk, auto, and some bulk terminals in Seattle and Tacoma. This partnership also connects to the second-largest concentration of distribution centers on the West Coast.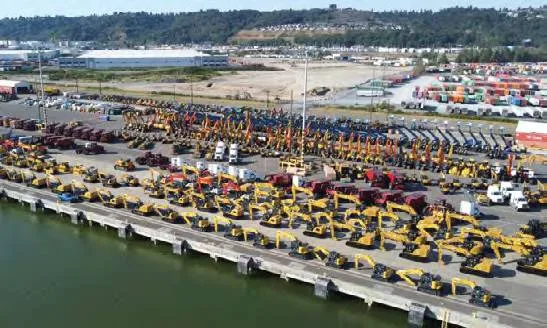 Andre Elmaleh, senior manager of non-container business development at Northwest Seaport Alliance, spoke about this scenario, "The surge in the breakbulk tonnage is driven by rate increase on containers. The big factor is the increase in the rates in the trans-Pacific trade for container ships".
RORO – A FASTER ALTERNATIVE
The supply chain conundrum changed the scenario from container ships being the transport mode of choice for many RO-RO shippers. Elmaleh explained, "Ro-ro became more reliable, faster, and cheaper to the benefit of NWSA."
The NSWA is slated to top its 2021 breakbulk volume in 2022. Elmaleh states, "Our customers indicate another record year, with a potential 10 percent improvement over 2021. RO-RO becomes more reliable, faster, and cheaper." The ports handled 246,411 MT breakbulk in 2019, which shot up to 25.6 percent in 2020, which again grew to 366,184 MT in 2021. So the numbers speak for themselves. Companies like Caterpillar, John Deere, and Case New Holland Industrial, predict an increased demand for their goods. Growth is expected in all sectors, including construction and agricultural equipment. The NWSA operates breakbulk terminals handling automobiles and heavy cargo. "We attract RO-RO carriers but do not work on traditional lift-on, lift-off high, and heavy project cargoes," Elmaleh added.
As per port data, RO-RO construction equipment constituted 67 percent of 2021 tonnage. Some RO-RO carriers involve EUKOR car carriers, Hyundai Glovis, MOL RO-RO, K-Line Ro-Ro, and NYK Ro-Ro.