As most of us know, these days in Dubai, there's no dearth of fun activities available to engage in – from places to visit, to restaurants to dine at, to the famous nightlife we have here. And most of us can claim to have "been there, done that."
But a few weeks ago, some of us were privileged enough to add yet another fun experience to our Dubai diaries. (Well, "fun" for some, "torture" for a select few….and "fun torture" for most of us.)
I am referring to the exhilarating team-building activity that was organized at the TEPfactor Dubai, an indoor adventure playground. While the interiors were this fascinating cave-like structure, this activity center was unassumingly located at Dubai's fancy Jumeirah Beach Residence. Also "unassuming" were we, when most of us had very little idea about what to expect (which was part of the fun) – "was it team-games," "was it brain teasers," "were we physically fit enough" etc. were all the questions in our collective minds.
And guess what? It was all of the above, and then some. Mentally, some puzzles needed us to think outside the box (almost literally!), and physically we discovered muscles in our bodies that may have only been used 15 years ago, if that!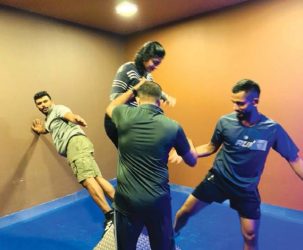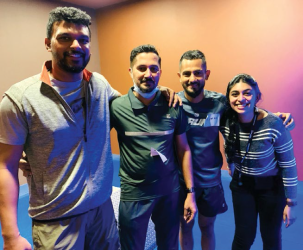 But all in all, with "teamwork" being the name of the game(s), and while kudos went to ALL of the 11 teams that took this grueling but supremely fun time quite competitively, there was only one winner. The "Grey Falcons," who used a very tight strategy to overcome literal obstacles, pulled their teammates up (literally) and worked together to come out winning with stiff competition from the contending teams right on their tail.
So despite the physical and mental exhaustion, all of us were thoroughly uplifted in spirit with this experience and surely cannot wait to go back again.