Lighthouse - May, 2015.
The 20th Anniversary Golf Event Organized By CSS Group in Dubai



As part of  CSS's 20th anniversary celebrations in the UAE the company organized a corporate golf day at the Dubai Creek Golf and yacht club, which was attended by the overseas agents of CSS Group and golfers from the UAE Forwarding and Logistics community.
CSS chose Dubai as the venue for this event as it's known to be one of the best golf courses in the region. The course was not only appealing for the golfers taking part, the event was a curtain raiser for the get together which followed the days and nights after wards
The players enjoyed a round of golf at a sporting oasis in the heart of the city which has a distinct aura of a delightful journey across the fabled landscape of Dubai, a city that thrives in all seasons.
Dubai Creek Golf and Yacht Club – Well-groomed fairways lined with date palms, attractive water body and shrubbery lends a tropical air to the Club's 18-hole, par-71 championship course that rolls into thousands of undulating yards.
The majestic Clubhouse – its design mirroring the sails of the traditional Arab dhow – has been one of the most photographed landmarks since it opened in 1993, capturing the essence of Dubai's seafaring traditions and presenting the perfect fusion of heritage with modernity and style.
The Game
The CSS golf event was based on a Texas scramble team event whereby the players were randomly put amongst overseas guests and local dignitaries, as this event was an ideal opportunity for the attendees to meet each other and interact.
Prizes were as follows:
Longest drive was won by Brett Todd Manager Execujet
Nearest the Pin was won by Ken Dinnadge VP CSS Group
Ist Team-Winners
Barry Operations Manager CMA-CGM
Ger Regan Senior Manager Ritchie Brothers
Sid Savage Senior Project Manager Sohba Group
Brett Todd Manager Execujet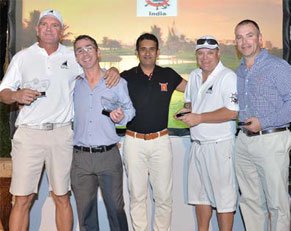 Runner up Team
Dirk Van Den Bosch Commercial Director DP World
Stephane Rambaud President C H Robinson Global Forwarding
Tom Sweet Vice President C H Robinson Global Forwarding
Ken Dinnadge Vice President Business Development CSS Group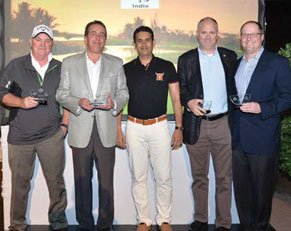 Third Place
Mathias Brosowsky Managing Director NGL Germany
Rohit Gupta Managing Director NMT
Peter Schulte Owner JPS
Phyllis Schulte – JPS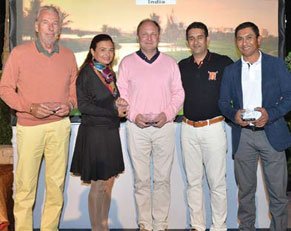 Everyone who participated enjoyed the day which was followed by a welcome dinner and presentation ceremony which was attended by The Chairman of CSS Group T S Kaladharan and selected staff of the company. All overseas dignitaries were also invited to attend the function. The event was sponsored by CSS India. Jairam K R, Director CSS India distributed the awards.