Lighthouse - May, 2018.
The Art and Science of Selling
The Lighthouse editorial team sat down with Hinna Hussain – Team Manager, Sales – to know more about the day in the life of a salesperson, how CSS is different than most Multinational corporations and what drives her to succeed.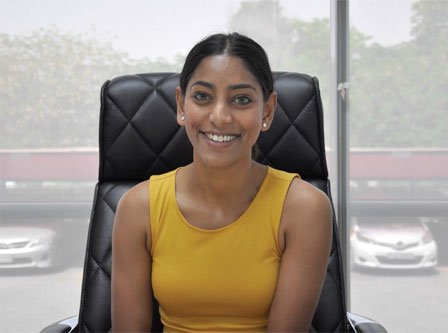 How would you describe yourself in under two minutes?
Prompt, efficient, bubbly, always on the job, workaholic.
How does a salesperson go about doing things – walk us through it?
You're open to doing [business development] in any way that you feel; everyone has their own approach. It could be through LinkedIn, you would be searching for another company on social media, you might try finding people you have common connections with. It could just be various ways of trying to secure a client.
Once things come in, you begin to understand more. If a job is overseas, your stress is mainly dealing with the overseas offices to ensure things happen in a certain way, and to keep [customers] updated. If the job is being executed [in the UAE, or elsewhere], export or import, it would need you complying with all their procedures.
How involved would you be?
We are quite invested in the job – we have the freedom to fix the job from point A to point Z. In many other companies, your sales, costing, pricing departments are separate, the guys that quote your job and the ones that do invoicing are separate. You might close the sale but you are not really sure about what is happening in the background now. You might be able to bring in clients every single day but servicing them is not really easy because you are not the one involved in other aspects of the job. Here, you are truly involved in all aspects. You are always ready for a situation where suddenly everything is an urgent situation, an emergency, sudden calls in the middle of the night to make vessels and planes go faster become normal! The CSS structure runs better because you know more, you learn more, you are more invested in your job. At any given time, the client can call you for an update and you are more than aware on how to handle the situation. You are the sole person handling it, along with your support team.
How did you first get involved in the shipping and liner industry?
I think that purely happened quite by accident. I don't think anyone ever enters logistics with an intention of entering logistics. I started from ground zero and it has been 7 years since [I have been with CSS].
What do you think it takes an employee at the CSS Group to get ahead?
You would really have to think out of the box, walk the extra mile. It is an internal motivation, rather than external. You should want to do it for yourself. Once you imbibe that, people recognize it. We have always had supportive seniors – they are always open to guide you. One cannot be spoon fed when it comes to logistics. If you have that desire to grow and learn, you are bound to be recognized. Everyone sitting here has the potential and an equal ground of opportunity to grow; your drive and the energy you put out there is key.
What do you enjoy most about working here?
The comfort of working with the team and the freedom to make immediate, executable decisions for your customers.
What is your personal philosophy regarding freight forwarding?
Whether you look at cargo, logistics or freight forwarding, people should just break it down. Freight forwarding has never been rocket science – it is so basic and so simple, the layman would have a laugh if they actually understood the concept. I think people just unnecessarily complicate it.
With the current state of affairs in the industry, what do you think are the positive and negative predictions that you could possibly make?
Everything is always evolving and growing. A constantly changing landscape brings with it its own challenges. But as with all challenges – there are opportunities to overcome them. Instead of focusing on areas that do have problems, you should rather work on areas that have more strength.
What would you say your greatest strength is?
My positive outlook
If you were to be faced by failure, how would you handle that?
Failure is something everyone has to go through because it is only then that you learn to be appreciative and thankful for what you have, what you are doing and for more yet to come. If you do not go through that phase, it is a human tendency to take things for granted. Go through it, deal with it, move on from it.