Lighthouse - November, 2014.
The Art of Relocation
CSS HOMEWARD BOUND BELIEVES IN PERSONALIZATION FOR EVERY MOVE THEY HANDLE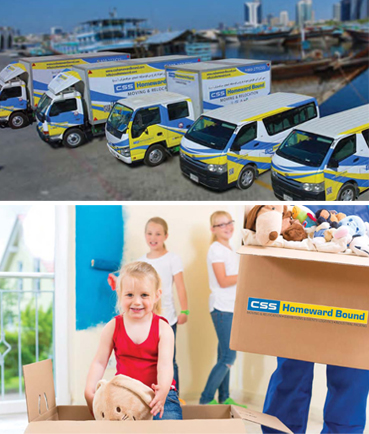 Relocating to a completely new land is a task easier said than done, especially when a family is involved. Moving to a different country and settling into a new life is a period of emotional and physical upheaval that needs to be tackled intelligently tailored with the right help and guidance from a professional Relocation Company like CSS Homeward Bound and the professional services they offer for relocation.
A new lifestyle indicates starting everything from  scratch, especially the Moving costs, visa procedures, health and medical tests, accommodation, getting accustomed to the culture, new home & workplace, new friends, arranging for a driver's license, setting up telephone and satellite connections, searching for the best school for your child and much more. All this has to be often sorted out with little knowledge about the place.
We are pleased to introduce our company, CSS Homeward Bound, one of the largest and leading professional Removals and Relocations Company in UAE with a worldwide network. We, at CSS Homeward Bound, are committed to cater to our customers' needs by rendering exceptional services.
Our company is managed by a team of professionals with a proven track record and extensive experience in the business of Relocation. We take the stress out of the moving process by providing a seamless and worry-free experience. We affiliated ourselves to leading associations like IAM, CAM, WCA, ARA to show our commitment to provide high quality services.
We provide our customers with service of the highest caliber.
CSS HWB is pleased to provide Relocation Services to ease the Settling-In and the Repatriation processes. Below is a brief summary of our scope of relocation services provided by CSS HWB:

Dubai, Abu Dhabi etc. City Orientation: A general overview of the city giving an idea what it is to live in Dubai. This orientation will give the transferee an idea about the shopping possibilities (groceries, furniture, clothes and white goods stores), the different housing areas, practical matters in living in Dubai and the UAE as well as a glimpse to the different health care facilities provided.

Accommodation Orientation: This orientation package will give a more in depth understanding of the various living areas Dubai has to offer, giving the transferee the possibility to view properties that have been selected as per their requirements and budget. We also negotiate the terms and conditions of the lease/ sale agreement and arrange for a pre-arrival cleaning.

Settling In Services: This service is a detailed orientation to the city, tailor-made as per the transferee's specific requirements. It also includes an overview of the different cultural, sports and leisure activities Dubai has to offer and the various clubs one can attend to. The Settling In Service also includes the utilities connections (electricity, water, cable TV, Internet and the telephone) assistance. This On Arrival service package answers the queries the transferee has and acts as a helping hand.

Education Services: This service package is focusing on finding the suitable nursery, kindergarden or a school for the younger expatriates relocating to Dubai. Not only does this package provide the transferee with the relevant information, contact details and locations of the educational institutes, but also fixing appointments with the selected institutes.

Departure Services: On leaving Dubai we arrange to terminate the lease contract, disconnect the utilities (electricity, water, cable TV, Internet and the telephone), returning security deposits to the utilities providers, arranging painters and cleaners as well as arranging for the handover of the property to the owners and collecting refunds.
These above Services are flexible and they can be tailor-made to suit the transferee's specific requirements.
CSS HOMEWARD BOUND IS ALSO HAPPY TO ASSIST ON THE FOLLOWING REQUIREMENTS:

Banking options
Beauty and body care providers
Gardening & landscaping specialists
Handyman and maintenance providers
Insurance providers
Laundry services
Maid services
Obtaining an e-gate card
Obtaining a driving license
Obtaining a liquor license
Pet grooming services
Pool maintenance and servicing
Specialist health care providers
Temporary accommodation
Veterinary clinics
Vehicle rentals
CSS Homeward Bound. The safest passage for your Relocation.