Lighthouse - November, 2015.
To Selfie or not ot selfie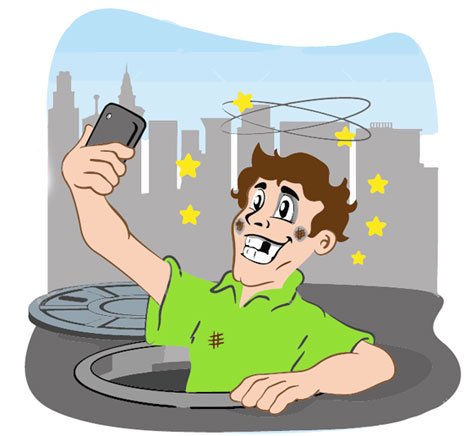 Many years have passed since football legend Pele visited Kolkata and a lot has changed since then. A few weeks ago, when he was greeted by fans at Atletico de Kolkata's ISL fixture against Kerala Blasters at the Vivekananada Yuva Bharati Krirangan Stadium in Salt Lake, Kolkata; one thing other than football was also uppermost in fans' minds – get a selfie with Pele. This thought is so far removed from Pele's first visit, thirty-seven years ago; no one would have predicted that the word "selfie" would have gained so much prominence. But fans, who managed to take selfies with Pele, soon started posting pictures of their memorable moment on social media. Twitter, Facebook and Instagram were soon full of selfies with Pele.

It is only two years ago that the Oxford English Dictionary, an icon of the English language, gave the accolade of "Word of the Year" to "selfie". Since then the word has become a feature, for many of us, in our everyday language. For the uninitiated, and others will tell you that you had better get with it, a selfie is a self-portrait photograph, typically taken with a mobile phone camera, held in the hand or supported by a selfie stick.

Ranging from the flattering, casual and sometimes bizarre, most selfies are taken with the mobile held at arm's length or pointed at a mirror so as to avoid using a self-timer. But the one indisputable fact of a selfie, which makes them so much in demand, is the overarching thought that if it happened then there must be a picture. No picture then it didn't happen!

However the temptation to take a selfie and post it almost immediately on social media has brought its own problems. Just like pressing the send button on an email, and then regretting it soon afterwards, selfies are being posted without any thought to the unexpected consequences. Once posted on social media, selfies can soon attract reposts and retweets gaining so many views they are deemed to have gone viral. What the picture taker felt was a personal view of an event, to share with a few friends, becomes everyone's property on which to make comment – good or bad.

When Danish Prime Minister Helle Thorning-Schmidt was shown taking a smiling selfie, sitting in-between US President Barack Obama and UK Prime Minister David Cameron, it probably never crossed her mind that she was going to create an international commotion. Although the selfie was taken at a memorial service for Nelson Mandela in December 2013 it is still, even now, doing the rounds as a selfie "in bad taste".

Believe it or not more people have died, in recent years, while trying to take a "selfie" than from shark attacks. You may wonder how these unfortunate tragic selfies occurred.  There is the 66 year old Japanese tourist who fatally injured himself, after falling down some stairs, whilst taking a selfie at India's Taj Mahal. Others have been killed getting too close to wild animals for that once in a lifetime selfie. In 2014, organisers of the Tour de France were compelled to ask spectators to "respect the riders" after a number of accidents occurred when spectators ran onto the roads to take selfies.

These situations arise because selfie takers frequently become so engrossed in achieving a "wow-factor" picture they forget about what they are actually doing. Of course as the selfie trend grows so do the opportunities for others to make money. Have you spotted the product placement which appears in many of the celebrity selfies? You can safely bet this is not by accident. But the image that the celebrity selfie encapsulates is one that today's selfie generation is attracted to follow – to take part in what seems glamour and fun. Posting a selfie democratises the idea of celebrity and the dream of instant success. For one moment, as the selfie is taken, that person is making a self-confident statement.

However like many things it is all "ifs and buts" so as many of us will be tempted to take selfies, especially during festive celebrations, there is little point waiting on the side-lines as just one selfie might make YOU famous. Like the lottery saying, "You have to be in it to win it" and with fame should come some good fortune. So smile everyone please this "Kaleidoscope Team" selfie is about to go VIRAL!