Lighthouse - July, 2019.
Top Customer Award
CSS HONORED BY CMA CGM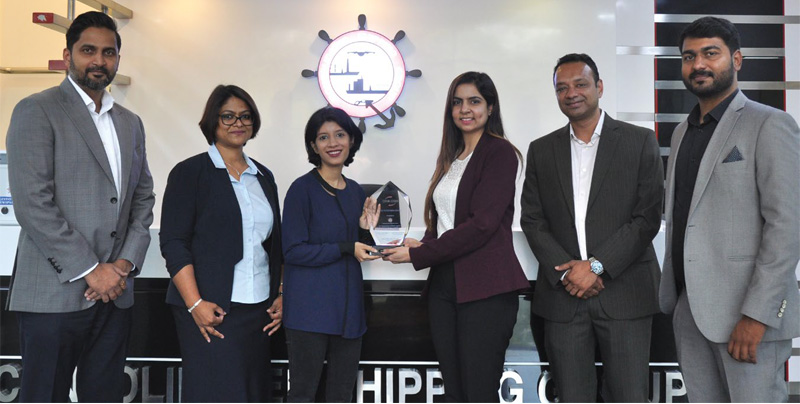 The CSS Group received the Top Customer Award from CMA CGM in appreciation for their support in the year 2018. The award was handed over to Chandrakala (CK), CSS Group COO, NVOCC, at the CSS Group Regional Head Quarters in Jebel Ali on the 02nd May 2019.
The CMA CGM "Top Customer Award" was handed over by Anshika Bhatia, Asst. Trade Manager, Exports (Europe/ Med). Santosh Devasper, Commercial Manager and Pradeep Vallath, Manager Key Accounts/VIP Desk were also present from CMA CGM during the occasion.
"CSS Group is honored to have been awarded with this recognition from CMA CGM, and we value this partnership. We have always ensured to maintain global standards in all our service parameters. Our relationship with CMA CGM over the years proved to be a progressive and mutually beneficial one," mentioned Chandrakala on the occasion. Rosh Manoli, General Manager Sales & marketing and Angeli Sudheer, Manager Pricing & Customer Service Desk, CSS Dubai were also present during the function.
Founded in Marseille in 1978 the CMA CGM Group is the third-largest container shipping company globally. Present in over 160 countries through 755 agencies, 750 warehouses and 110,000 employees and a diverse fleet of 509 vessels. CMA CGM serves 420 of the world's 521 commercial ports and operates on more than 200 shipping lines.
CSS Group with its large presence in the Middle East and South Asia, looks forward to seeing the relationship grow manifold, with CMA CGM in the years to come.