Lighthouse - November, 2016.
Transformer Movement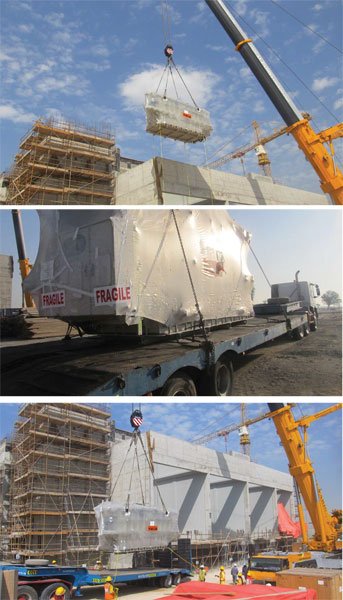 The Projects team at CSS Group successfully completed a major movement recently.
Six Units of Transformer each of 7 x 2.8 x 3 M and weighing 60 tons each were moved from Jebel Ali to Dubai Hill Substation site and Khor Dubai Substation site. The movement included the installation procedures as well at the site.
As is the practice, extensive study and survey was conducted as part of this movement regarding the Origin, destination and the travel route. Each point of the entire project was carefully assessed to ensure a fool proof and smooth journey of the cargo. The transformers were moved in heavy duty Low Bed Trailers and offloaded using 500 ton crane with super lift. "The entire movement was done overcoming lot of challenges and as usual our team were enthusiastically delivering their best throughout the process" commented Sreenath V, Vice President, Operations & Projects, CSS Group
Prior permissions were taken and escorts were arranged for the entire route. "Our proven expertise in the field of transformer movement brings in quality clients to us. Installation is another area which requires high level of technical expertise. CSS Projects team's experience and knowledge is the key factor to our high level of success percentage", commented Raj George, Senior Vice President, Projects Oil & Energy, CSS Group, after the successful project completion.