Lighthouse - November, 2021.
WHAT ARE THE REAL REASONS BEHIND THE RISING FREIGHT RATES?
In a recently organized webinar by the HSBC group, Brian Hay, the Chief Executive of the Cardinal Group from the UK spoke about the real reasons behind the rising freight rates worldwide. He said that while the coronavirus pandemic continues to disrupt the natural rhythms of global container freight, he expects demand for consumer products to drive the industry forward. He emphasized, "The ships are full, and freight rates are high, not just because of demand, but also the fact that equipment has been displaced as a result of COVID-19."
Brian Hay revealed that freight rates have risen from USD2000/40' high cube container to today's market rate of USD20,000.00. There are several real challenges, but he expects freight rates to improve towards mid-2022 till 2023. With the capacity growing year on year, this could bring down freight rates as it eases the demand for space on shipping vessels.
Real Reasons for the Sky High Rates
He threw light on the four key areas for this pricing behavior, influencing the dramatic rise in freight container prices:
1. Reduced velocity in the usage of equipment
2. Consumer behavior and the surging demand for space
3. Port closures and congestion
4. Shipping line behavior
It is also to be noted that the pandemic has fueled all these factors.
Usage of Equipment
From relatively small to larger vessels of 22,000 TEUS, about 5.5 K container ships are in operation now around the globe. Shipping lines have been painted as the bad guys, making hay while the sunshine. However, most shipping fleets are in full circulation, and the parking of ships is not driving the demand.
Shipping vessels are not available mainly due to the pandemic, interruptions in scheduling, and problems in the WHAT ARE THE REAL REASONS BEHIND THE RISING FREIGHT RATES? deployment of empty units. It is more of care of slower circulation rather than deployment of empty containers. For example, Hapag Llyod, one of the largest shipping companies in the world, needed 300,000 units to reach their pre-pandemic levels and fulfill pre-pandemic bonds. This requirement is not due to the rising consumption and demand for space in ships. However, it is just to manage their pre-agreed bonds.
According to Hay, the current situation is not driven due to equipment shortage but due to slow circulation, rescheduling, port congestion, and general in-availability of vessels.
The freight rates are expected to remain at record levels for a more extended period impacting the sector as it is susceptible to rate volatility, weak economic recovery, and trade protectionism. The Q42020 and Q12021 supply chain disruptions involved container box shortages and port congestion, resulting in frenzied container freight rates. Most shipments during the period are being booked at higher rates than recorded and add on priority load surcharges.
All freight and logistic companies worldwide face operational nightmares as they try to secure container space for their clients.
Brian Hay mentions that they are often fighting for equipment as they are reallocated elsewhere due to the slow circulation of the containers due to the pandemic. Typically a container is used in deep-sea service six times per year, and it could be even below 4 in 2021.
Consumer Behaviour and Demand for Space on Ships
The consumption resulting from the pandemic is phenomenal and will continue to remain so unless we switch our behavior from products to services. Since almost everyone worldwide has been cooped up at home, people have been on a buying spree to make their living and working spaces more comfortable. Most retailers are trading beyond their expectations. The freight liftings in the USA in Q4 of 2021 are 35% higher than in Q1 2020. The deployment has been more to the USA as the demand has been more.
Port Congestion
Port Congestion has been phenomenal in pandemic times and can be seen even from outer space. Currently, all ports, particularly in Asia, are saturated due to a strong rise in inactivity. Ports are also operating from lower productivity rates due to pandemic restrictions. For instance, the port of Liverpool is struggling to meet increased demands due to a severe lack of manpower. In China, Yantian port was closed due to a COVID outbreak. The sky-high freight rates are all a result of these contributing factors.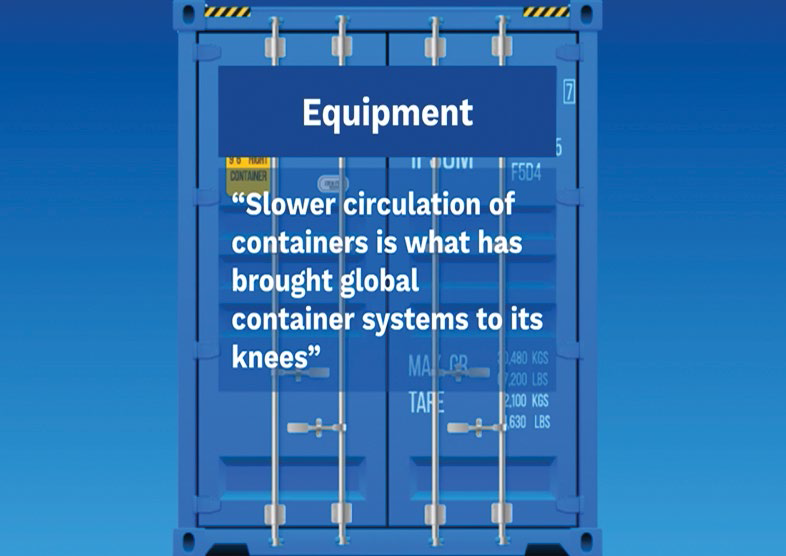 Shipping Line Behavior
Shipping liners made a combined profit of $16.2 B in the first three months of 2021. What is astounding is that all their Q1 earnings are more than they did in the same period of the previous ten years combined. Mr. Hays noted that their action destroys years of collaboration and loyalty and might be fuelled by profits. He also reiterated that logistics companies are working on their values of integrity and are not increasing the freight rate to take advantage of the situation.
How shipping lines used to sell out a vessel typically was long-term contracted rates, the large volume moves, named account deals, and the rest on the spot market. But the pandemic has reversed the ratios. Service agreements have been put aside, and most of the deals are on the spot market. It does not allow freight operators to operate the way they want to.
It is next to impossible to provide the right service in the current situation with no real prospects of rates easing in the near future. Usually, rates soften in July and August and go into a peak with the Christmas shipments. There might be a leveling by the end of the Chinese New Year, between Feb and March 2022.
With people moving to more experiential services rather than products, inflationary pressures due to rising prices may ease demand and decrease freight rates. Brian Hays pointed out that the rates will not return to the old levels of $1000-#2000 – for a container from Asia. He believes that being forewarned is being forearmed, and the figures can be pegged at $5000-$10,000 per container. Brian Hays is the CEO of Cardinal Global Logistics, the UK's fastest growing logistics service provider with 22 offices worldwide and over 400 staff, with its head office located in Manchester. Cardinal provides integrated end-to-end supply chain solutions to businesses ranging from SMEs to large-scale multinational entities. Known for designing and implementing transformative supply chain solutions, Cardinal provides customized innovative approaches for each client.