Lighthouse - July, 2012.
Yacht Movement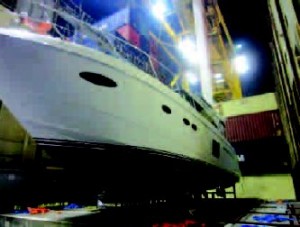 Consolidated Shipping Services and Peters & May imported and executed the discharge of Princess P64 Yacht. The shipment was collected in Poole, loaded in Southampton, and discharged in Jebel Ali for transit on its own keel to Doha. The shipment was about 836 CBM and was carried in vessel CMA CGM. The dedicated teams of Yacht and Marine Logistic specialists were onsite overseeing the logistics operation of the offloading activity in the early hours of the day.
CSS and Peters & May were also involved in the export of a 2002 Sunseeker Manhattan 78 approximately 1064 CBM was loaded into Leda Maersk container ship sailing from Jebel Ali to Genoa. The yacht was loaded onto the vessel with the help of specialist divers and special lifting crew from DP World supervised by the CSS team at the prime location.