Lighthouse - November, 2012.
Yacht Movement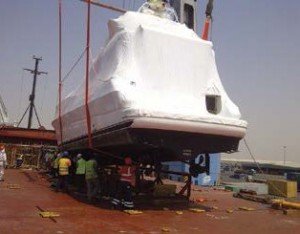 The Yacht and Marine logistics division in CSS Abu Dhabi has recently executed a yacht shipment from Jebel Ali to Beirut.  The Yacht 64 owned by Mr. Salim Ramia, of length 19.5 meters, width 5.35 meters, and height of 8.4 meters with a volume of 900 CBM weighing roughly 40 tons, was loaded onto the vessel at the Jebel Ali port. The entire operation was executed under the supervision of Rosaline Nabil, Business Development Manager, CSS Abu Dhabi, Ahmad Fuad, Branch Manager, CSS Abu Dhabi and Suku Sudhakaran, AGM, CSS Abu Dhabi. The dedicated CSS team of Yacht and Marine Logistic specialists were onsite overseeing the entire logistics operation during the early hours of day.
A special thanks to Raj George, Senior VP – Projects / Oil & Energy, CSS for his continued support and guidance throughout the shipment.